Nat and Rie Woo had their baby girl on Saturday, April 9 at 3 something in the morning. She weighs in at 6 pounds 7 ounces and is 19 inches long. Congratulations to them!! We are so excited for them!!
Funny thing is, April 9 was supposed to be their Baby Shower. I felt so bad! We waited too long to start organizing the party and we had to keep pushing back the date because of other things that were happening. And turned out, her water broke Friday morning and instead of a baby shower, we have a baby! I think this baby girl's gonna be quite a party animal! She knew that we were having a party for her, so she decided she was gonna show up!! Hannah came 2 weeks early. We really pushed this baby shower too far back. Well, we'll just have to have a bigger and better one-month party for them!
EJ and Hannah are only 6 months apart. I always tease that Hannah will be his future girlfriend 🙂 With a dad like Nat, EJ will probably be whipped :P! What parents we are, huh!! All in good fun, all in good fun. (But it'll be so awesome if we're actually related to the Woo's!)
I'm so proud of Rie! She went through such a long labor without any pain medication. She is indeed a warrior! Nat said that any woman that can endure so many hours of pain is better than any Iron Man. He's right!! So proud of her!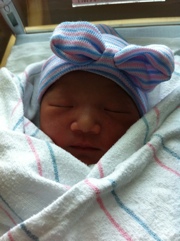 Precious baby Hannah, just 9 hours old.
One Response to "Welcome Baby Hannah!"