08 May 2011 02:34 pm | Category: Food
This is my first year as a mother celebrating Mother's Day. I woke up to a nice sausage and omelette breakfast, credited to Eric. Nice omelette too, and it was the first time his omelette had turned out so well. The branch presidency decided to cancel their meetings today and so for the first time, Eric was able to help me get the baby ready for church while I got myself ready. I even sat down and ate a proper breakfast! Amazing! Instead of rushing around and just stuffing a bag of crackers in my bag to eat later at church.
We had a potluck after church and this time it was the brothers who made the food! I was very impressed with the level of hard work they put in which resulted in filling up every inch of two long tables with dishes and dishes of food! And we only have 15 men, so very impressive. Considering that some of these men haven't cooked in a while (one, I heard, hadn't cooked since before he was married (:) the food was delicious! Some men stayed up till 1am, 2am to finish cooking. Eric got up at around 6am to cook (so even though he didn't have meetings this morning, he still couldn't sleep in). I'm sure many sisters thoroughly enjoyed this once-a-year pampering. Even though now my kitchen's a mess, at least I'm not the one cleaning up 🙂
I had a little contribution to the potluck today. I'd found a recipe for cheesecake stuffed strawberries. Last night my friend made a cake and had some leftover filling. I took the filling and cored the strawberries and stuffed them. The filling is mascarpone cheese with hazelnut. It was yum!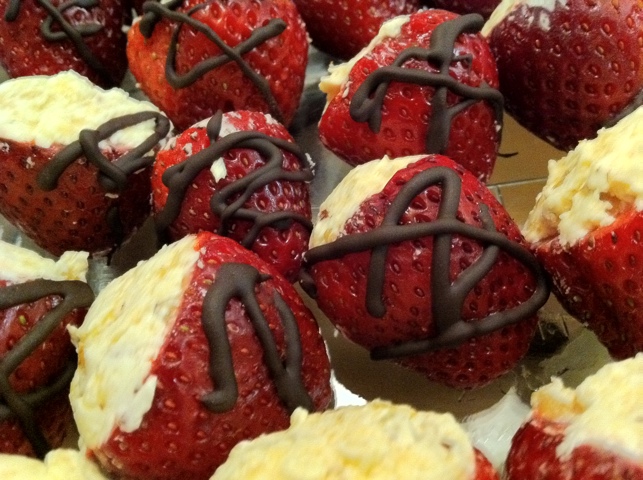 I still need more practice drizzling chocolate on. It tastes better than it looks!!

Eric's spam jambalaya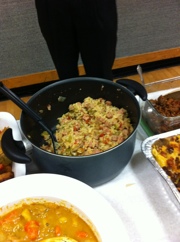 4 Responses to "Happy Mother's Day!"