Diarrhea and yeast infection. That's from the antibiotics that EJ's taking for his UTI. We're ok on the yeast infection. Luckily. But not so much on the diarrhea! The first day on the antibiotics, he was like a newborn again. Going every few hours! And very watery! At least that let up after the second day. But we're still having very diarrhea-like bowel movements.
Funny story. We were out for dinner tonight. I was holding him and I felt vibrations. I said, "I feel vibrations!". Rie thought I meant earthquake vibrations! Lol! Oh no, this was vibrations from EJ's pants!! And it wasn't contained in his pants. He got it on his pants, on his sweater, on his onesie, AND on MY sweater!! My WHITE Zara sweater that I bought in Paris!!!! 🙁 Lucky I got the stain out. Otherwise, I'll be so sad. I know, just a sweater, right? I guess. But I love clothes 🙂
This wasn't the first time this week. A few days ago, when we were out looking at apartments, I could hear his vibrations going in the back seat. Super loud! So I stopped in a parking lot to change him. This one was really everywhere! All up his back. All the way to his shoulders. Yep. It was gross. I tried getting the stains out. There's still a tinge of yellow…. He ruined an outfit with his poopoo!!
Anyway…. He's definitely a lot better though. We still have to finish his 10 days course of antibiotics. Doc says 7 days should be fine. But he keeps spitting out his medicine. I think we better do 10 days.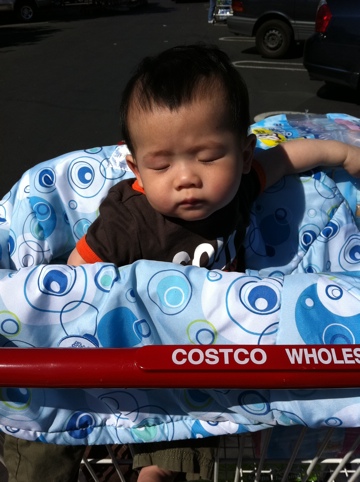 Opps! He blinked. His hands are clenching on the toilet paper rolls. He was holding onto them pretty tight. I think he likes the crinkling sound made by the plastic. I like to think he's helping his mama out with the shopping! 🙂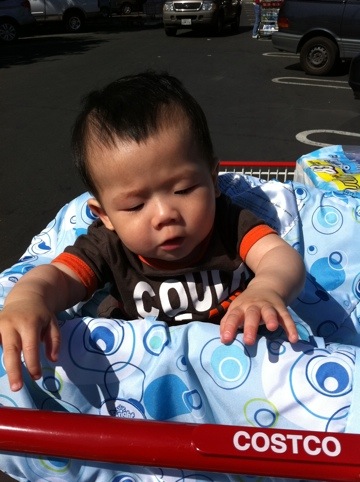 He's fine enough to sit and chill in the seat of a shopping cart.

And fine enough to play with jam packets at Carrows.
We're good.
His ultrasound and catheter is next week. Hopefully they come back negative and this UTI is just a one time thing. Crossing our fingers and praying hard.
2 Responses to "And the possible side effects include…"