Can't say that I've ever celebrated Singapore's National Day quite like this since coming to the States. But thanks to our fellow Singaporean friends, it's another excuse to get together and have some good food!

Nat showing us how to kill a crab. You can bet we got fresh crab! Thank you dear crab for sacrificing yourself so we can have a good meal!

Singapore Chilli Crab of course needs fried 'mantous'/buns to go with the sauce! Eric frying them up!

Nat's family special: Chili Crab! Tell me that doesn't make your mouth water just looking at it!

Eric chopping up our Hainan chicken!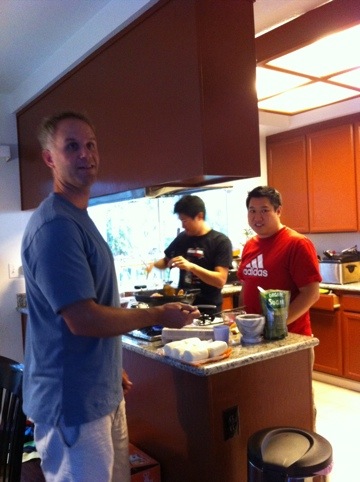 Fun to see all the men in the kitchen!

Results of our labor!!

Another one of EJ's milestones: climbing stairs!
One Response to "Happy 46th Singapore!"