Yes, Labor Day weekend was last week. I've finally gotten around to posting. We were planning on going away, but we procrastinated in making a decision on where to go, then our friends decided to visit us from out of town and needed a place to stay, so we just hung around.
But not to totally waste the weekend away, we decided to go to the beach! We brought EJ to the beach at the Santa Cruz boardwalk last time, and he loved it! But we weren't totally prepared, i.e., no swimmers, no towel, etc. So, this time we were!! BUT we were soooo not prepared for the COLD!!
We went to the Half Moon Bay State Beach. Half Moon Bay's always cold, but we were hoping it won't be that cold since it's the summer. We brought sweaters just in case. Thank goodness for the sweaters!! The wind was so strong and the water was freezing!!

All dressed for the beach!!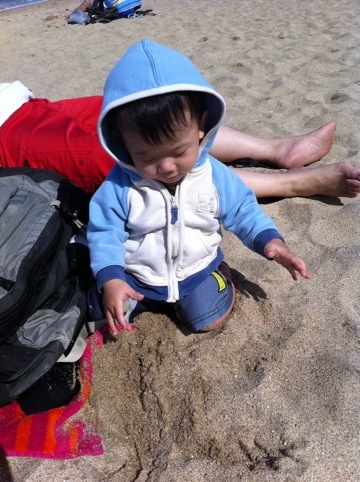 We mostly just laid around on the beach. EJ was happily playing in the sand.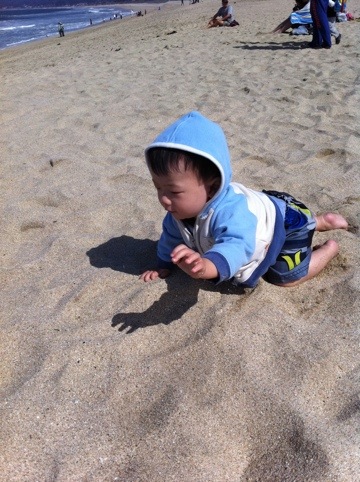 EJ was exploring the beach all by himself. 🙂 Of course under our watchful eye. He was crawling everywhere. At one point, he was heading towards the ocean! A couple of times he did a face plant and had a mouthful and nostrils full of sand. Yikes! He even tried eating seashells he found in the sand. Lol! Seriously, that kid puts everything in his mouth. (Even though he doesn't eat much food!!)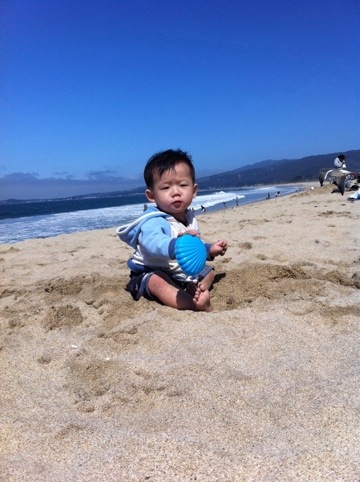 The family that was playing right beside us let EJ play with their seashell sand mould. We didn't bring any sand toys. We don't have any sand toys! Lol! Anyway, it was really nice of them.

The water was freezing!! So we only went in right before we were about to leave. Actually I didn't even touch the water. Lol! Eric took EJ in. We have a water loving baby!!

EJ heading out to the water by himself 🙂

There was seriously sand everywhere! We cleaned EJ up from the trunk of our car. When I removed his diaper, it was filled with sand! Lol! We had to wash him off with a water bottle since there wasn't a shower. Poor bare-bottomed EJ getting hosed down with a water bottle in the parking lot! Quite a sight!!
After the beach, we went to Half Moon Bay's famous Flying Fish Grill where they have the best fish tacos. We found that they've moved from their hole-in-the-wall restaurant, to an actual full size restaurant! Sadly, Eric and I both thought that the quality of the fish tacos went down 🙁 EJ enjoyed his mini corndogs, though!
No Responses to "Labor Day!"