We finally get to use our fancy pumpkin we got at the pumpkin patch. It's EJ's first time helping out with the pumpkin carving. We had him help Eric get all the gunk out of the pumpkin. Well, he didn't like it! Haha! EJ likes being clean, so he probably didn't like the sliminess of the insides.

It was so funny watching his facial expression! Well, that was the end of it. Eric finished cleaning out the pumpkin and I carved it.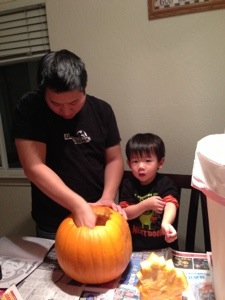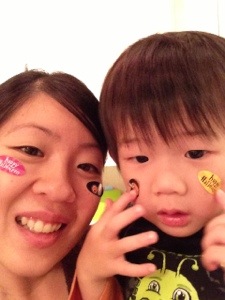 We played around with some stickers while waiting for Eric. I bought those stickers for EJ to decorate his own little pumpkin. Well, he wasn't interested in decorating the pumpkin. Not one bit!! Our friends took their Nerf guns out for the little kiddos to play with, and EJ was much more interested in that!

Well, those little missile things were more interesting I guess. If you listen carefully, EJ's saying "one, two, one, go!" Yeah. Donno why he doesn't count to three! He counts one-two, and then eight-nine-ten. Just skips everything in between!
Anyway, here are the fruits of our labor.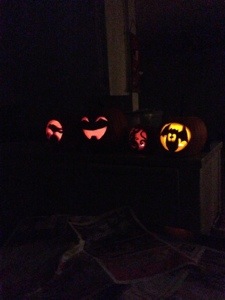 Ours is the one on the end. A very lame looking bat. Haha. Our friends have two cats in their apartment, and even though Eric took two Zyrtec pills, he was still sneezing like crazy. Poor guy, had such a sinus headache after that night. Seems like those allergy pills don't work for him! Anyway, the light in our pumpkin looks different cos we got a battery operated light in there. It even had the flickering effect of a candle. But I must say, real candles look much better!
After that we had dessert!! Eric tried introducing whipped cream to EJ.

I think that's gross! EJ didn't let Eric squirt it in, he turned around before Eric could. Great parenting there!!

Pigs in a blanket. I love those things! So yummy!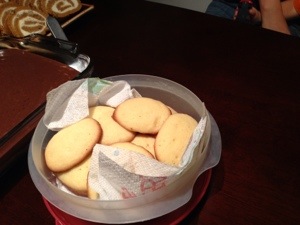 Good ole' sugar cookies.

BTS cake. Graham cracker on the bottom, butterscotch and then chocolate pudding. Heavenly…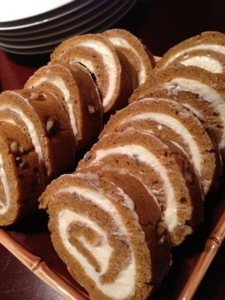 And I made pumpkin rolls. I'm not a fan of pumpkin pie, but usually pumpkin anything else, I love. And I love this recipe! I still have some pumpkin purée, gotta find some other pumpkin recipes to make!
Even though EJ didn't end up quite involved in the pumpkin carving, I'm glad he had fun with his friend, Ken!

I love it when they play so well together. 🙂
No Responses to "Pumpkin Carving"