This is EJ's second year going to our combined trunk-or-treat with the local ward. We just went for the candy last year, but this year we decided to decorate our trunk and give out candy! Well, let's just say our trunk's decoration is so pathetic, it doesn't warrant a photo! There were much cooler trunks. All we did was use some fake spider web and called it good. Well, at least we gave out good chocolate!! Made up for our crappy trunk.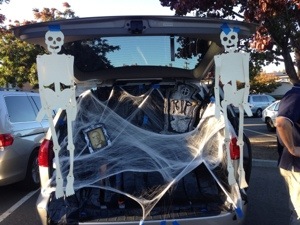 EJ fishing for candy.
EJ actually got two costumes this year. I got him a second hand Spider-Man costume at Kid-to-Kid. Eric thought that was lame, so he went and got DJ Lance Rock for him. Paid full price, too! And guess what, EJ preferred Spider-Man. And the glasses for DJ Lance Rock broke even before EJ wore it. Well, at least we got a photo of EJ in it.

The collar was too high and was scratchy. Well, mommy knows best! Haha. We got good use out that Spider-Man outfit. We wore it three times!

EJ and his bucket all already to collect candy! I got his bucket for 25cents at a garage sale! I'm so proud of my cheap finds. Haha.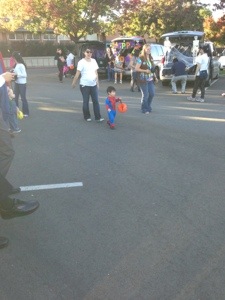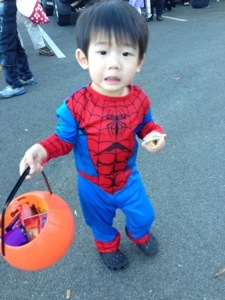 It got heavy.

We found him sitting down resting. He'd laid out his top picks next to him. Haha.
He even tried out stilts that belonged to the Bishop. Bishop Dorff is so cool. I'm glad we're neighbors!

This is EJ's stash from that night. Wow, people give out good chocolate!!! Must tell myself to have self-control and not eat all his chocolate!!!
No Responses to "Trunk-or-Treat!"