We bought an annual membership to the Children's Discovery Museum in downtown San Jose. A great purchase! They used to charge $10 per person, it's only free if the child is under one. Now they charge $12. The membership is $120 for one year and it covers both parents and all their kids. The more kids you have, the more worth it. Since we only had one, we would have to go at least four times to make our money's worth. It's mostly just EJ and I that go, so we need to go at least six times! And we've been many, many times. We definitely got our money's worth.
I took EJ there on Halloween day. It was so quiet!! We also went in the afternoon, so doubly quiet. It's usually so crowded with kids and there's always a line to "drive" the ambulance. That's EJ's favorite. That day, he could just take his time!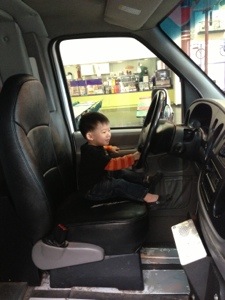 We spent most of our time, over two hours upstairs in the Wonder Cabinet. It's geared towards children under five. Again, so few kids, no one to fight with him.

Who doesn't love flying balls. We spent a long time here, just putting those balls in.

EJ playing with sand. It's amazing how these simple things can occupy them for so long!

EJ making something out of styrofoam and water. This place is amazing!! I'm definitely bringing him here in the afternoons from now on. I love how quiet it is! Mornings definitely more crazy. And since EJ doesn't nap until later in the afternoon, after lunch would be a perfect time to come.
After the museum, we headed over to Eric's office for their Halloween party. The museum is right next to EY's office. Eric's team at Intel did a wonderful job at putting up this display.

The screen on the computer was the "blue screen of death". Very nice touch.
I didn't care about the candy they were handing out. I was there for the food! They had pretty good food last year, and it didn't disappoint me this year. They had all these desserts, so sad that I could only stick to one, otherwise my blood sugar would go through the roof! EJ fell asleep, it was his nap time, so we hung around while Eric took a conference call. Eric said it'll take about 30 minutes. I should've known better, it took an hour and a half! After his call, we headed home where we were meeting the other neighborhood kids to go trick-or-treating.
It's so fun to have other church kids that live in our neighborhood. EJ loves playing with them. It was my first time to actually go door-to-door trick-or-treating. EJ did a good job. He didn't need me to carry him. We were out for an hour and he walked the whole way! It was so cute seeing him collecting candy, he was very considerate! He didn't just hold out his bucket, he carefully put his bucket down, pushed aside the handle and lifted up for the treats to go in. He learned to say "or treat!" So cute!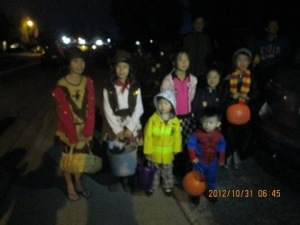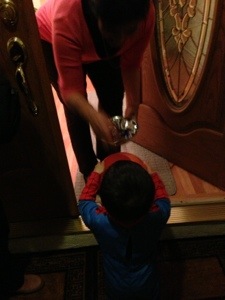 Someone's very awesome Gangnam Style pumpkin! They were even playing the music!
Very eventful day for EJ!
No Responses to "Children's Discovery Museum/EY Halloween Party/Trick-or-Treating"