Still no signs of labor two days before my due date, and my mom was here. So date night it is!! Speaking of my mom, we almost didn't go pick her up from the airport! Stupid time difference, made me all confused! My mom left Singapore on Monday night 8pm in Singapore, which was about 4am Monday morning our time. Her transition in HK left on Tuesday just past midnight, so naturally I thought she would arrive here on Tuesday night. But I kept thinking about it and it just didn't make sense that she would be traveling for more than 24 hours! I was just talking to my sis about it around 8pm, and I figured out the time, she should be arriving on Monday night! Even though she left HK on TUESDAY, she gains a day and arrives here on MONDAY! Yeah. Her flight arrives at 9pm, so luckily I still had time to go pick her up and not leave her stranded at the airport!
Anyway, with mom here, Eric and I went out for a movie! And the only movie worth watching now was Skyfall, the new James Bond movie. It did not disappoint at all! After the movie, just because we can, we went to Denny's for a late night supper. Ever since EJ was born, we hadn't stayed out past midnight unless we had someone stay over. We also would have to rush back by 9ish to pick him up and put him to sleep. So, it was nice to take our time and enjoy a little before #2 came.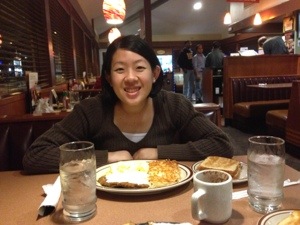 Having some very unhealthy food at Denny's. At least it was super fun!
One Response to "Date Night!"