Eric went to Cleveland for a business trip. EJ and I got sick. I got a flat tire. EJ got a toenail infection. And our friends had their baby! Yep. Crazy week!
Since we got sick and Eric was out of town, I was planning to just hibernate at home. I had enough food for week, I didn't need to go out. We did that on Monday. Then on Tuesday, I realized that I hadn't mailed in my rent check yet! Grrrr! So I had to pack the two kiddos in the car, drive all the way to the post office to mail one stinking check. You have no idea how hard it is to get EJ out of the house. "No! I want play cars. No, I don't want wear socks. No, I want bring iPad." Blah blah blah. Then when we're all finally in the car and I'm pulling out of the driveway, "I want go home." This kid!
After mailing the rent check off, EJ decided he didn't want to go home. He wanted to go to the park. Fine…. Only thing was, I hadn't planned on leaving the car (since the post office has drive-through mail boxes), so I was only in a T-shirt and sweat pants. I looked completely bummy. Anyhow, EJ wanted to play at the playground. So we went. It was a nice, warm day anyway. I have to admit that it was nice to be outside after being cooped up for one day. On the drive home, the tire pressure warning light on my car came on. Whaaaaat!! Man, I hit the sidewalk on Sunday and it's coming back to haunt me. Sure enough, as I pulled into the garage, I heard a loud hissing sound. I looked at the tire and air was coming out from a huge tear. I quickly backed the car out again so we could get the spare tire on. We're so blessed the tire didn't blow out on us on our drive back from the park. SO blessed. I called AAA, they came within 20 minutes and helped me put my spare on.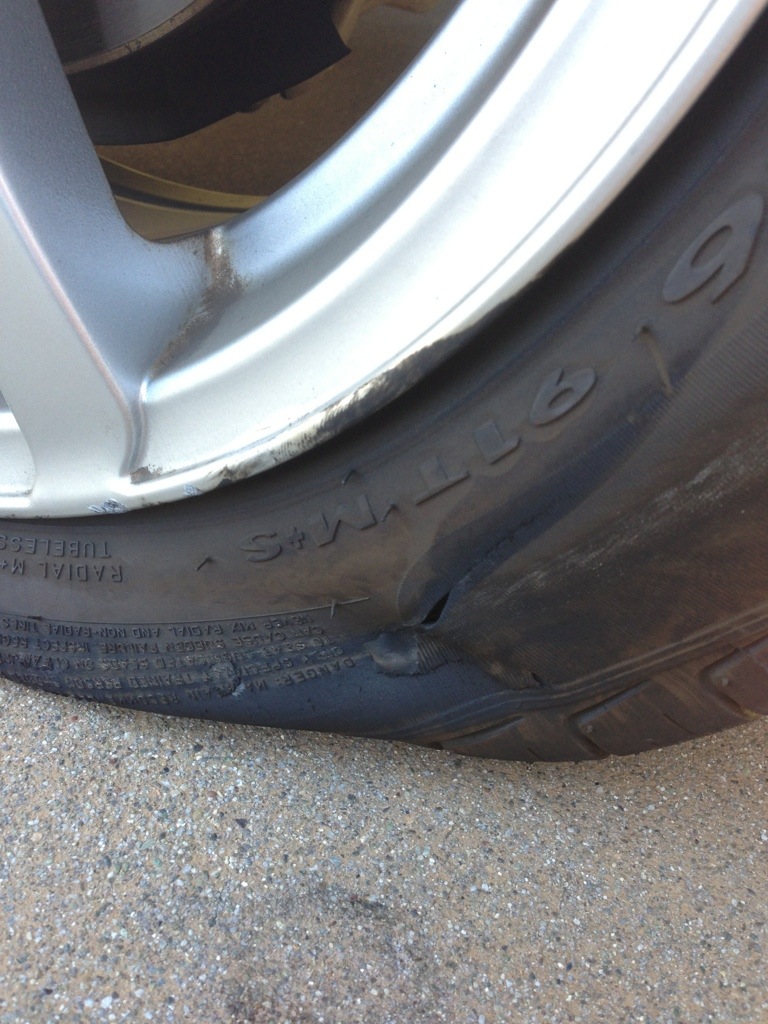 We had to miss story time on Wednesday morning to go to the tire shop to get a new tire. Sad. I wasn't looking forward to sitting around and waiting at the tire shop. I made sure to pack enough toys to keep EJ entertained while we waited. I also made sure to make an appointment before going. But then when I showed up, there was only one other guy there! EJ didn't need toys to entertain him, he was just fascinated that they were fixing mommy's car. He kept staring at the window and saying "Fixing car? Fixing mommy's car? Black car?" So cute. And best of all, since we had a warranty on the tires, I only had to pay $18.25 to renew the warranty. Yay! It was turning out to be a better day than I thought, so I brought us all to the mall!
I thought EJ would enjoy playing at the play area at the mall, but he only wanted to hang out at the Disney store. Then we had CPK for lunch cos EJ wanted pizza.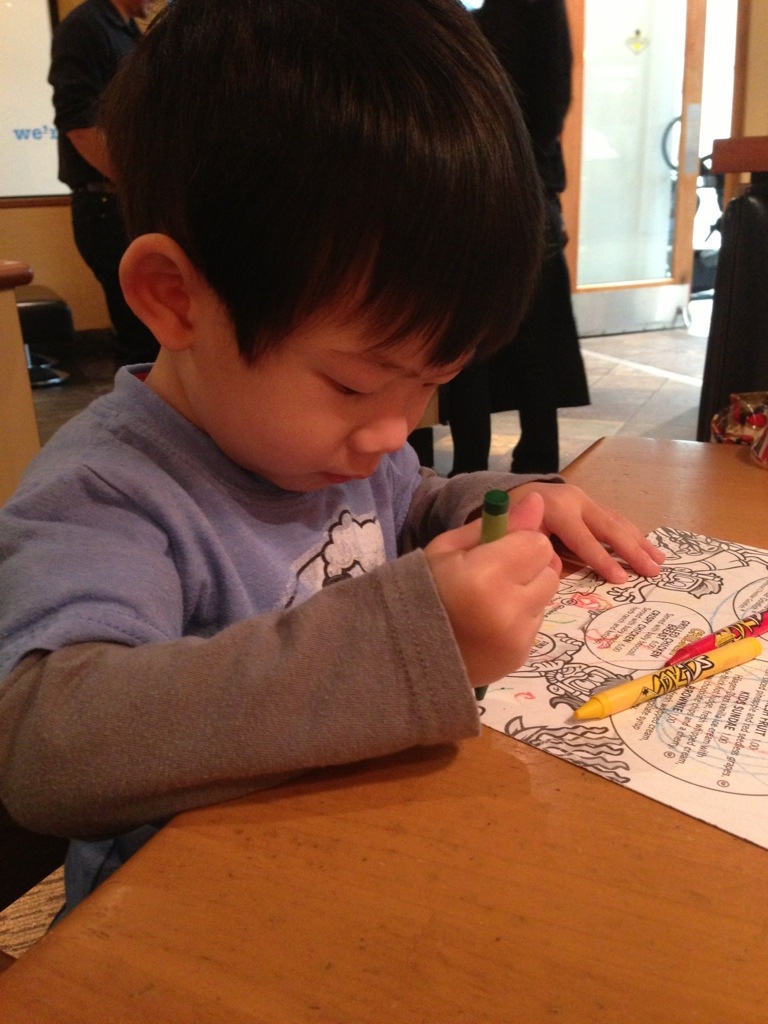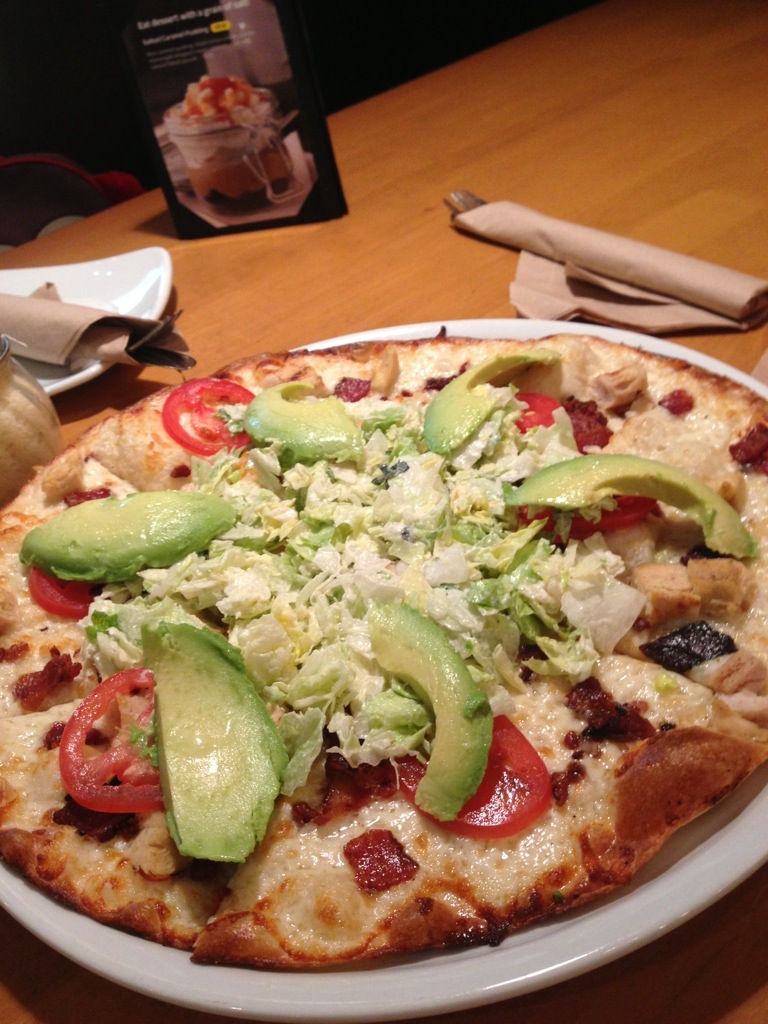 I got the California Cobb pizza for us to share. It was interesting. Not bad, don't think I'll ever get it again. Lettuce on pizza is kinda weird. Haha. So that was Wednesday.
Thursday I had my friend over for lunch. Her baby was due THAT DAY, but no sign of labor, so we had a little lunch date. That night, as we were reading together, I noticed the corner of EJ's big toe was all swollen and infected!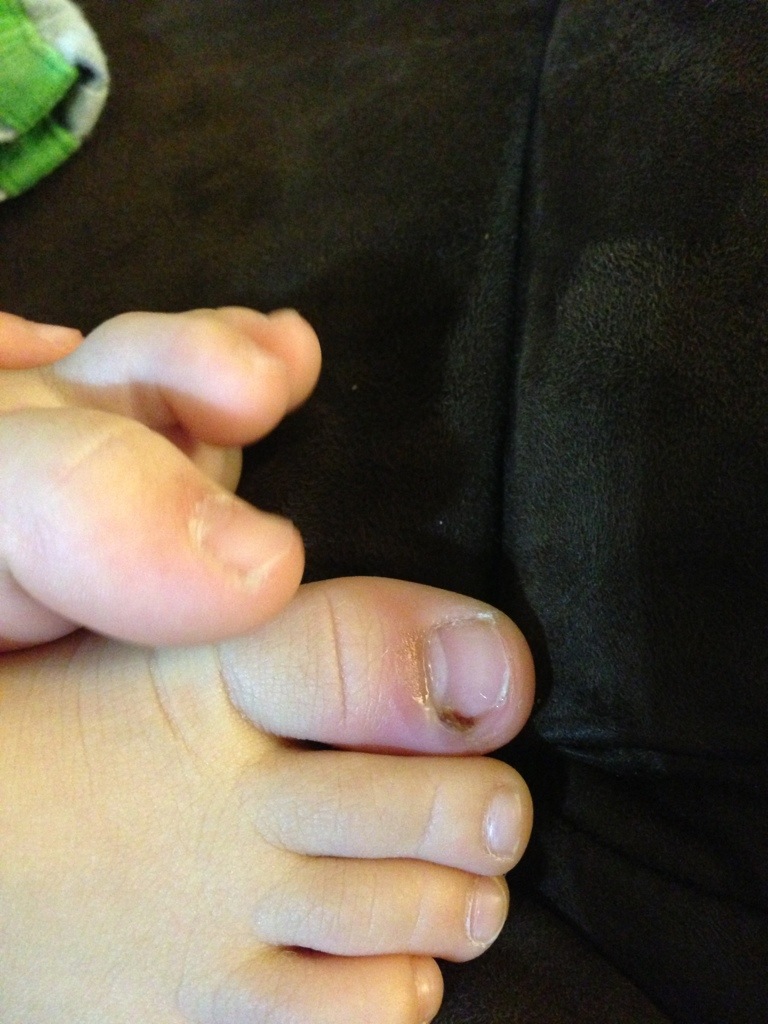 He had peeled off the side of his nail and I had to cut off the flapping piece of nail that he peeled out. And the exposed skin got a little infected. I debated whether or not to bring him to the emergency room (yes, very dramatic!), but decided against it since it really wasn't that bad. I called the nurse and they told me to put some antibiotic on it and we made an appointment to see the doctor the next day.
EJ knows the hospital and remembers he gets shots when he goes there. So on Friday morning when I turned into the hospital parking lot, he said, "Not this one, mommy. Not this one. No go this way! NO GO THIS WAY!!!!" He was frantically crying all the way to the front desk, but then he saw some toys and stopped. Miracle of toys. Haha. When we went in to the doc's office, he refused to take off his shoes unless I did too. Doc confirmed it was an infection, and prescribed us some stronger antibiotic. I went to the pediatric pharmacy and waited to pick up our prescription. Waited and waited. And waited…. Finally I decided to check in with them. What was taking so long?!?! They told me my prescription is at the discharge pharmacy by the Emergency at the hospital section. Whaaaaaat. How in the world?!?! We had to walk all the way to the other end of the hospital to pick up our prescription and when I did, I realized I already had a tube of that same topical antibiotic at home from the last EJ had an infection. Oh well. By the time we got home, Eric had already came home from the airport. EJ and I made use of the nice, warm weather outside and played in the backyard.
Then later that night, our friend, whom I had the lunch date with the day before, finally had her baby! Yay!!
Oh what an eventful week!!! To think all I wanted to do was hibernate at home all week because of my cold. My neighbor came over to check on us a couple of times because she heard very loud crying. Thank goodness for our wonderful neighbors! My visiting teacher also came over with yummy udon noodles that fed us for a few meals. Thank goodness for awesome VTs! Well, I'm glad Eric's home and it's finally the weekend. And we're all feeling slightly better. I can't wait to meet my friend's baby!!!
3 Responses to "Oh what a week!"