I've been back from my Singapore trip for over a month now and I really need to blog about it! It was the first time for me to fly by myself with my two little kids. It was quite a trip! I had to go back to Singapore to be with my family at a difficult time. My grandmother had passed away, so I was going back for her funeral. I had actually booked the tickets on a Monday, to fly out on Thursday. I was hoping my grandmother could wait for us to get there, but she passed away on the Wednesday. It was 3/14/13. "Pie Day", actually.
Singapore airlines is the only way to go when you're flying with children. You really feel like they make you a priority. I was bracing myself for the worst flying experience ever. 18 hours + layover + 2 kids = Potential catastrophe. In reality, it didn't turn out that bad!
We took the midnight flight out on Thursday. Elsa had her little bassinet. She slept like an angel. EJ had his own seat. They gave him toys before take-off. And he had his own bright-colored headphones that matched his shirt.
He was enjoying his shows and his way-past midnight meal. He stayed up until probably about 3am before crashing.
The most annoying thing about flying is the turbulence. Every time there was turbulence, the seat belt sign would come on and I would have to pick up Elsa and buckle her in, risking waking her up. Thankfully there wasn't much turbulence.
The landing part of the flight was pretty crazy though. EJ was crying because he didn't want to be buckled in. Elsa then woke up and also started screaming cos EJ was screaming in her ear. Since I can't carry both in my lap, one of the cabin crew had to sit in EJ's seat and take Elsa on her lap while EJ sat on mine. Both of course crying at the top of their lungs all the way through landing. That was probably the craziest part of the flight. Other then that, I suffered some bruises on my arm from carrying both EJ, Elsa, and our carry-on luggage.
The good thing about traveling by yourself with kids, you get to cut all the security check lines and go right up to the front. Elsa was a great flyer. It was really a blessing that we all survived the flights and layovers.
Oh, and again, a plug for Singapore Airlines. On the way back, they couldn't give me a bassinet seat for Elsa cos they were all taken by other babies. Instead, they gave me an extra seat. So EJ could take up two seats and sleep. Elsa took one seat. Not super comfy for me, I guess. 🙂 They didn't make him wake up at landing, instead they just buckled him in. Landing on the way back was much much better.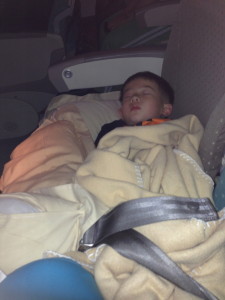 It was nice to see family again. Hopefully next time they'll come see me instead so we don't have to endure the long, torturous flight!
One Response to "Flying Solo"