Eric said I needed to start blogging again. Yeah… It's been a while. We were busy getting settled into the new house and so didn't have time (or energy) to blog. And it's been so long that it'll take forever to catch up, so I just kinda gave up. Haha. Anyway, I know I definitely need to pick it up again.
I finally decided to blog again today because of something that happened to EJ today: his first heartbreak and rejection!
EJ is completely in love with this girl at school. Every time I pick him up from school, he tells me what he did with Juju that day. "Mommy, I sat next to Juju. Mommy, Juju played with me. Mommy, Juju is nice to me." One time, out of the blue, he told me, "Mommy, I like a girl. I like Juju." Haha. I think it's so cute! He would always give her a hug and say bye to her and only her when it's time for him to go home from school.
Today, he told me something so sad. He said Juju told him that she wanted to play with Jazmine today and not him. She told him that she likes Jazmine. He was so sad!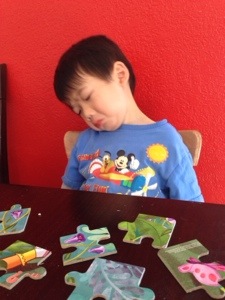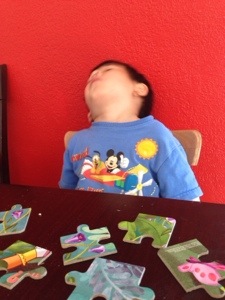 Look at how sad he was. I thought it was funny, I had to take a picture. He's so dramatic. We were just making a puzzle together and all of a sudden he just told me how sad he was.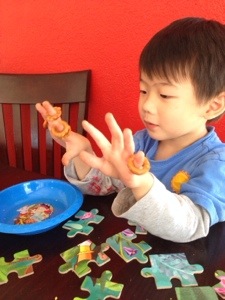 Well, we had a snack and he felt much better. I love talking to this little guy. I love the conversations we have every afternoon when Elsa is napping. So precious. I hope that as he gets older, he'll still be willing to tell me things.
One Response to "It's been a while"