So, a couple of weeks ago, our school (Challenger School) had an inter-campus sports day. Our campus (Strawberry Park) was hosting the Berryessa Campus. Our middle school students competed in basketball, soccer, and flag football.
To get our students roused with competitive school spirit, the student council decided to have a poster competition. Our campus's mascot that the student council chose was The Gladiators. Students from all grades were supposed to create a poster around this theme. Our principal would judge and choose the top three. Every teacher had to submit one poster from their own class towards this competition.
Now bear in mind, my 3rd graders were competing with middle school students in this competition. But nevertheless, we did our very bestest and we came up 3rd! Imagine that! I'm so proud of them!
This is a mini version of our winning poster: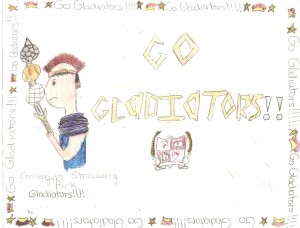 Notice how the gladiator in the picture has the balls stacked up on his sword. Genius, I say! My kids are genius!
Well, about the sports day. Let's just say we did our bestest too!!
One Response to "Go Gladiators!"