Yay! It's official! Today was my last day of school. Friday the 13th. Yikes. But nonetheless, it marks the end of grading papers and lesson planning for at least 6 weeks while Sarah is here.
The last day of school was basically all fun and games. In the morning we had carnival games and mini golf. Each class had to design a carnival and a hole for the mini golf.
Our theme for the carnival game was "Flower Power". You had to toss small tiles into flower pots to get points. My students painted the sign and made the pots. Awesome kids!
There were other games like bowling, ring toss, coin toss, water relay. They even hired a magician. Cool! And I got to be the magician's assistant! They even had face painting, and I did one on my arm.
Our golf course theme was "The Yellow Brick Road" from the "Wizard of Oz". Super cute course, but the hardest one. Tough!
Notice the poppies on the side. The kids made 250 poppy flowers. They were poppied out after that!
After that we had a picnic lunch on the field under a huge tree. I bought my kids popsicles. They love me for that 😉 After lunch, the kids played games on the field and ate more ice-cream (they were selling ice-cream and the line went all the way down the entire building block!).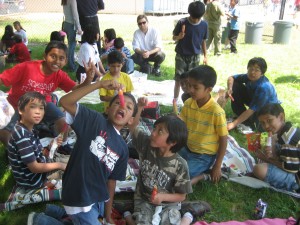 I have such awesome kids! They love helping. I'm going to miss my class. It was no doubt a hard year. My class had the most number of boys with the least number of girls out of the three 3rd grade classes. 14 boys and 8 girls. And even the parents agreed that the combination of boys wasn't the most ideal. Some of the most mischievous boys! They were a handful, but I love them. Today as we were saying our goodbyes, I almost burst out in tears. I love teaching! And I love how they love you back. It is definitely a rewarding job. I've learned so much this year and I have all this ideas for a better year next year. For now, I'm just gonna enjoy my summer!
One Response to "It's summer time!"