Wow, it's definitely been a while since we've posted.  My bad for that.  Been busy with work (not a real excuse I know).  So, another brief catch-up:
As mentioned before, we went to Hong Kong and Singapore for Christmas.  We saw both sets of parents, Shem, and Sarah, and did (in my mind) waaaaay too much shopping =)  Good thing we could only take so much home.  Since then, I had my golden birthday (27 on the 27th of Jan) and we had yet another Valentine's Day apart.  I'll get around to posting photos from our trip and other things that have been going on…soon (I seem to say that a lot and never get around to it).
Other than that, in reference to the post title, Hamburg, Germany is a really pretty place to visit I'm sure in the summer.  In the winter…if you're not German, don't bother going =) It's grey, on grey, on grey (sounds a lot like Intel – http://www.engadget.com/2007/05/08/conan-obrien-visits-mocks-intel-hq/).  BUT if you do happen to go, regardless of when, some of the best sushi I've had is found at a little shop called "Happi Sushi" near the corner of Valentinskamp and Neue ABC-Strasse: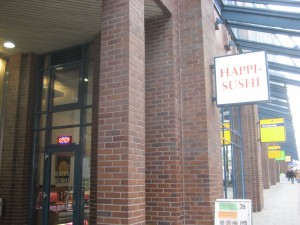 The sushi was surprisingly fresh, the udon noodles super good, and on the day we went it was run by this tiny Japanese grandma and her grandson.  A definite must go to regardless of whether or not you're craving sushi.
No Responses to "Random Food in Random Cities"