Such a beautiful day today! Eric has the day off and was able to make it to our hike! The hike's organized by a non-profit organization, Stroller Hikes. They go to different parks and trails every week. Today we are at Cupertino's Rancho San Antonio Nature Reserve. It's a mile long hike back and forth. We hiked up to a farm. We got to see a cow, chickens, ducks, sheep, and even a skeleton of a horse! We also saw some wild turkey and a deer that ran across the pasture in front of us. Funny thing though, Ethan was mostly interested in looking at the ground! Maybe he likes looking at rocks and hay. Lol!

At the farm

The butt of the cow. There he is, looking at the ground!!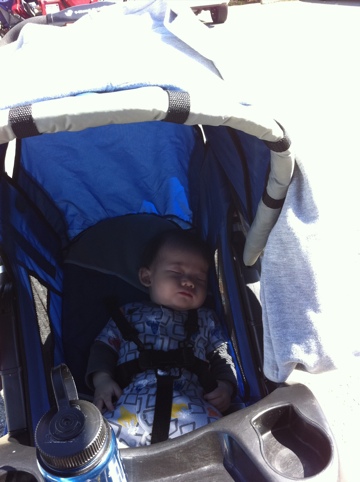 He fell asleep! First time falling asleep on one of our hikes. Yay!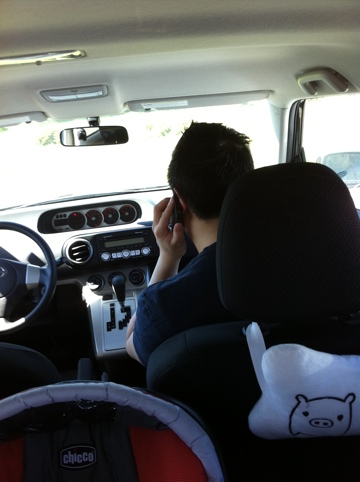 And of course it's never really a day off for Eric. He's taking a conference call in the car.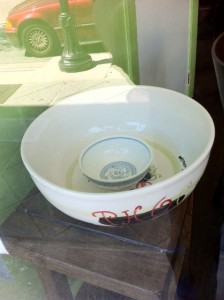 After lunch we took a walk around downtown Mountain View. We came across the Pho noodle shop which had the Pho Challenge. The challenge was to eat 2 pounds of noodles and 2 pounds of meat under 1 hour. Winner gets to keep the bowl and gets a free meal. Losers get a T-shirt, but have to pay $22 for the meal. Crazy. Eric is reeling in people to do this with him.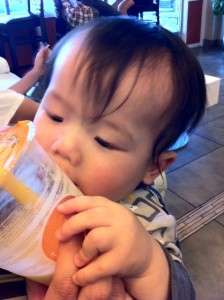 We finished off our day at Tapioca Express. I got the Passion Fruit Snow Bubble. Looks like Ethan wants some! He keeps grabbing my cup. Here he is licking the outside of the cup. Lol! He's definitely more interested in our food  now that he's started eating solids. He's always looking at our food and trying to get in on some of what we're eating!
I love it when Eric has the day off! So fun!!
One Response to "Eric's Day Off"