We have a very curious little boy. He loves looking at stuff! But he's too small for the seat in the cart. He doesn't want to be in his car seat cos he wants to sit up. I'm not gonna carry him cos he's too heavy. So, we've resort to putting him in the basket. He fits perfectly! And he can hold himself up! Everyone wins. 🙂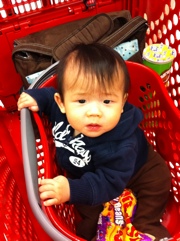 He won't smile for the camera!!

Staring intently at the TVs. He loves watching TV!!! But we try not to let him.
2 Responses to "Ring up the baby!"