On Friday I celebrated my 28th birthday. Hopefully I'm one year wiser. I definitely feel one year older! I feel like I'm always forgetting things here and there these days. People say this memory fuzziness comes with motherhood. I bet it does 🙂
At every birthday, I always ask myself what I have to show for this past year. I'm proud to say I have my little EJ to show for this year! We're plus one baby, minus one income. But babies are better 🙂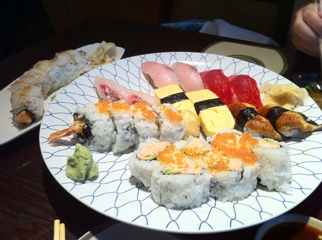 We went to our all-time favorite Japanese restaurant, Tomi Sushi, for my birthday dinner.
When I asked Eric if we were gonna have cake, he said he didn't know. Well, that means he was planning something and not telling me. How can we have a birthday without any cake! I love cake! That's why I'm taking so long to lose all this baby weight.
We headed over to Nat and Rie Woo's place. Rie made a BTS cake. Gotta love chocolate.
My sister mentioned in her letter sometimes she would feel homesick on her mission. I told her when we're away from family, our friends become our family. I'm so glad I have such awesome friends.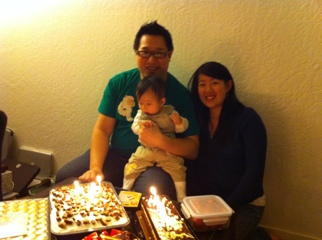 2 Responses to "One year older and wiser too?"