17 Jun 2011 09:20 am | Category: Housing
Hello Duplex with a nice yard!
The big move is tomorrow! This past couple of weeks we've been moving some little things over almost everyday. I can't believe how much stuff we have. And to think we both came into this country with just two suitcases. After 9 years, this is what we have! And I don't know how many trips I've made to Good Will already! I try to make several small trips to Good Will so it doesn't look like we're "dumping" our trash there!
We got our brand new washer and dryer yesterday. First time owners of a washer/dryer! Woot!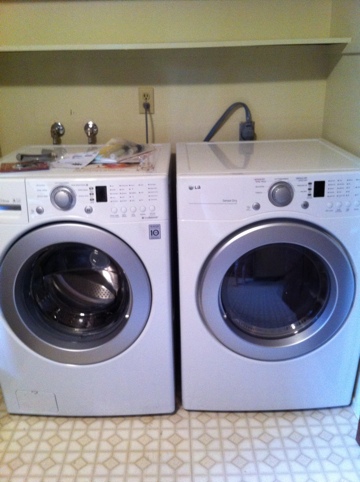 And today Comcast came and setup our Internet. Can't live without Internet, right? 🙂
Hopefully everything fits in the truck tomorrow. But I guess we're not officially moved out until the end of the month. We have some more time. I think I might just use the pool and gym before I have to turn in the keys! Gotta make use of these facilities, right? I've probably used the pool less than 5 times the whole 4 years we were here. The gym, though, I've gotten quite some use out of it, I'm proud to say! (Though not recently!!)
We're excited to move! I'm looking forward to not having to sit in the car with the little one when he falls asleep in his carseat (like right now; only time I really get to blog!) I can leave him in the car garage! Lol!
Here he is basking in the sunlight of our new place while the Comcast technician sets up our Internet:
He's now able to go from a lying down position to a sitting position all by himself! And today, he stood up for 2 whole seconds all by himself! Our little boy's growing up! :,(
4 Responses to "Farewell apartment!"