This year Eric participated in a Dragon Boat competition. He rowed for Team Subaru. Someone from church works for Subaru and was in charge of this event. He recruited his family and a few people from our branch. Eric was one of them.
It was a first dragon boating experience for Eric. Their team was to race in the novice division. To be considered novice, they can't practice more than three times. They only practiced twice. Of those two practices, not once was the boat full! (They need 20 people) Some team members hadn't even rowed before, but just showed up that day and raced!
Considering the very little practice they had together, they didn't do bad at all! Eric just didn't want to come in last. They came in second and third in the first two heats. Not bad!! In the Finals, they raced in Heat B (out of six novice heats) and came in 4th (out of six). They were that close to a medal!! It was seriously a photo finish! They lost to the 3rd place by .5 seconds!!
It was an all day event out on Treasure Island.

Eric in the team attire

Cheering on Team Subaru and stuffing his face with a cracker.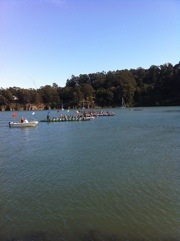 Rowing past the finish line!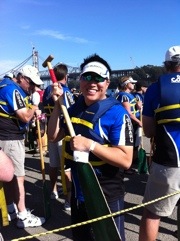 Eric ready to paddle!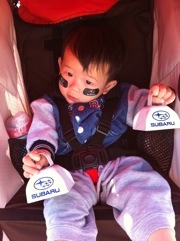 This should be a Subaru ad!
The dragon boat race was also a festival, so while they weren't racing, we checked out the booths at the festival. Quite unlike other teams who were working out/warming up, etc.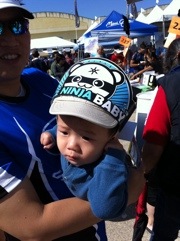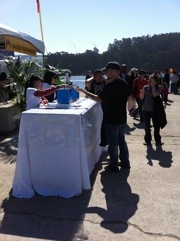 The Sunscreen bar. It's like dispensing ketchup, but instead, you get sunscreen! Awesome!

Eating an entire packet of fruit rollup. He loves that stuff!! Wouldn't even share with me!

He didn't nap the entire day. After the event, we made our way back to the car, he fell asleep in the stroller. He didn't even make it back to the car. He was super tired!!

Go Team! They did awesome!
No Responses to "Go Team Subaru!"