I can't believe my little monkey is turning ONE!!!!!!! How fast this year has flown by. We had a little birthday party for him last night with Eric's extended family. Our little house isn't big enough to fit all friends and family, so we decided to spilt it up and have two parties! That means two birthday cakes!!

What's a party without yummy food? There was Singapore curry chicken, ribs, potstickers, spring rolls, beef brisket…. It was good, yummy, home cooked food. The curry was my fave 🙂 And of course a birthday party isn't really a birthday party unless there's cake!

I'd left the cake out the whole time. I should've kept it in the fridge!! The icing on the frosting kinda melted away. Or maybe icing doesn't stay well on frosting?? The frosting was just whipped cream. The cake was a triple layer sponge cake. I wanted to fill it with strawberries, but there weren't any strawberries at the store! So we had kiwi and bananas with vanilla pudding filling. It was still yummy. Maybe not the banana, though. It reminded me of banana cream pie.

We sang EJ a birthday song and he was trying to grab at the candles. He was so cute. When we started clapping after we were done singing, he started clapping along. Such a happy baby! Even though it was almost 9:00 p.m. and way past his bedtime!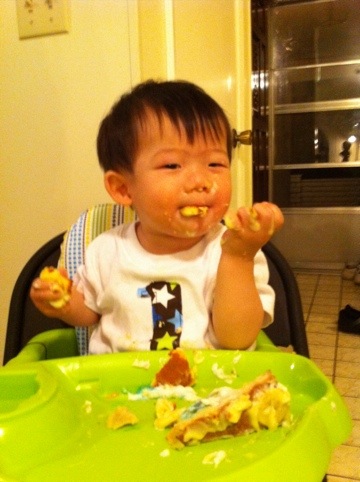 Then we had him dig in! I'm glad that he was having fun with it. I think he's learning to share. He would take a few bites, then with a clump of cake in his little fist, he'll stretch out his hand and offer me some cake. So sweet! Then when he's done eating, he starts throwing his food onto the floor. I think he's trying to clean up. Lol!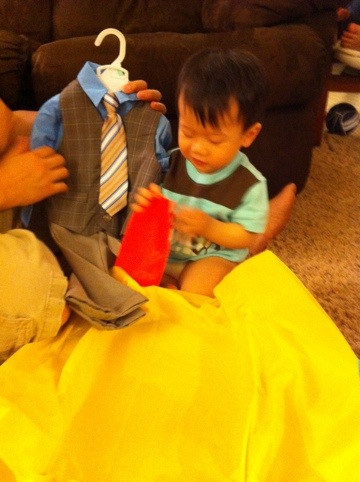 Opening presents. His first suit!

He also got a lot of books.

More new clothes.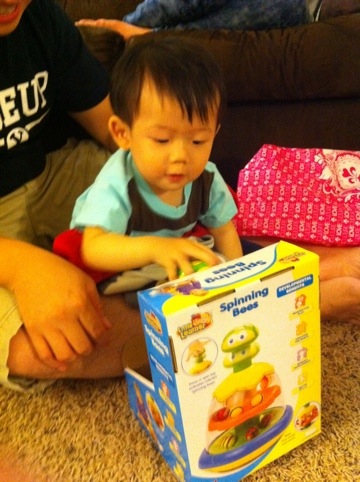 And finally a toy! You can see his eyes growing bigger when he saw the toy! He was so excited!

We had him 'choose his fortune'. Just for fun. We had four things: a book, a pen, a ball, and the iPhone. Book represents a scholar; pen, a writer; ball, an athlete; and the iPhone, a tech genius. He goes and picks the book! We were so surprised! That wasn't even his favorite book. I thought the iPhone for sure. He's always wanting to play with our phones!

He was really pooped out that day. So were we! Ok now to plan for another party this Saturday! This time we're having a few friends over. More food and more cake!! I'll go to another grocery store and see if they have strawberries there!
2 Responses to "One year already?!?!"