We took EJ to his first Pumpkin Patch! They also had bouncy castles and kids 18mos to 12 years were allowed in. Except no adults allowed. We figured EJ's a go-getter. He'll have fun by himself, so we paid the $9 for half an hour of fun for him. At first, he was a little intimidated by the huge bouncy castles and wanted Eric to go with him, but obviously we couldn't. We tried encouraging him and for a moment, I thought we'd just wasted our $9! But EJ warmed up soon enough when he saw other kids playing too. He dived right in!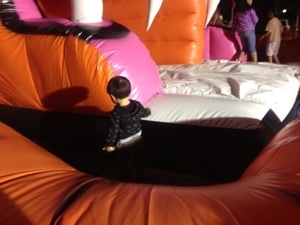 Photos are kinda blurry cos he was running around. Towards the end, he wanted to go to the big bouncy castle, but we didn't let him cos the slide down was way too steep. I'm glad our $9 wasn't wasted!
After the bouncy castle, we went and picked out our pumpkins. EJ wasn't too enthusiastic about the pumpkin patch. He was wearing his crocs and twigs from the ground kept going into his shoe. Should've worn proper shoes! But we manage to pick out a pumpkin, and EJ got one for himself, too!

The sweet tooth that I have was craving for dessert. This sweet tooth will be the death of me! Yes, despite this diabetes, I had a little something sweet to end of the night.

EJ picked the one with the most chocolate on top, it was chocolate banana mousse. It was really sweet! I got the pistachio mousse and Eric got the lemon fancy mousse (more mousse, less cake). Bijan bakery doesn't fail me! I love their cakes!

EJ staring at all the yummy cakes.
2 Responses to "Pumpkin Patch!"