11 Oct 2012 12:06 am | Category: Church
I LOVE General Conference! You stay home for two days in your pjs and watch tv all day. Haha. That's one way to put it. Of course, we hear the words of our dear prophet and leaders. 🙂
How exciting is the news about the new age for missionaries! I can't wait to see the difference it'll make. I'm thinking more sister missionaries since they'll still be too young to think about marriage (or are they? 🙂 )
Eric made us breakfast. I love it when he cooks. It means I don't have to! It was a very hearty breakfast of bacon, eggs, toast, country potatoes, and baked beans. The baked beans were from Singapore. You can't get it here! The baked beans here aren't like the ones I grew up with. It's tomato based and so much yummier!!

We also managed to update or 72hr kits. EJ's kit had clothes that were 3-6 months and size 3 diapers. Haha. And canned puréed foods. Clothes and diapers that he can't wear anymore and food that he probably won't eat and won't fill him anyway. Kids' kits really have to be updated more often!
For dinner on Sunday, we even ate some emergency food that we bought at the army supply store. It's not the MRIs, but it's a similar idea. It was baby back ribs flavor. There was also clam chowder, toast, and pop tarts in the package. To help the food taste better, the package came with salt and pepper and even grape jelly jam for the toast. There was also coffee powder and creamer. It was a total of 1000 calories and we spilt it between the three us. We had to make sure we actually like the taste before buying anymore for our 72hr kit.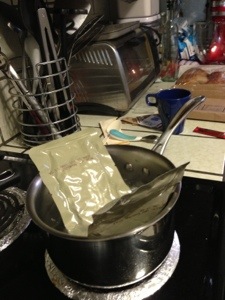 Cooking the baby back ribs and clam chowder. In an emergency, we'll have to eat it cold.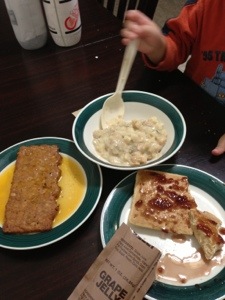 Our scrumptious dinner!

EJ ate all the clam chowder! He really liked it. The food wasn't so bad actually. Although I don't know how I'll feel about eating it cold. I guess in an emergency, you won't be that picky. I think we'll probably buy some more for our 72hr kits.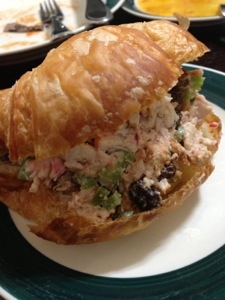 I had to supplement dinner with a crunchy butter croissant with chicken salad. And of course it tasted much better than those baby back ribs! Which, btw, didn't really taste like meat.
No Responses to "General Conference weekend"