I can't believe how fast these two years have gone by. I still remember delivering him in the hospital. Now he's a two-year-old! And he's gonna be a big brother next month. Next month!!! They really do grow up so fast! As the saying goes, the days are long but the years are short. So true, so true.
EJ's birthday was on a Thursday and we were having a party for him on the Saturday. So, we went out for dinner on Thursday night as a family. Well, his birthday is technically also my birthday since I gave BIRTH to him on that day. Haha. So I got to pick where we went for dinner. Cheesecake Factory it is! I love that place. There's a huge menu and everything is just so yummy! I try to get something new every time I go. Otherwise, I'll never be able to try everything on their super long menu!
I got the fish special of the day, which was a pecan crusted fillet of fish (Erm, can't remember what fish it was) and Eric got their shepherd's pie. We also got avocado rolls as starters – so good! And a side of sweet potato fries.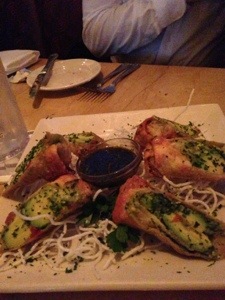 Avocado Rolls

My pecan crusted fish. I love their mash potatoes. They have chunks of roasted garlic mixed in. Yummy!

Eric's shepherd's pie and sweet potato fries. The fries were hot so EJ was blowing on them to cool them down. I taught him that. Haha. He's very good at mimicking you now. Eric calls me "Sharn" and EJ will echo him. Lol.
EJ really likes bread. Eric put some butter on the bread for him and EJ discovered how yummy the buttered bread was! I hardly let him eat buttered bread. If we eat bread, it's mostly with peanut butter. So, EJ really liked the butter. Naturally the next thing he did was to eat the butter. Yep, EAT the butter. Using a spoon and just scooping up chunks of butter into his mouth. We let him do it long enough for a photo, then took it away. Eating butter is gross!!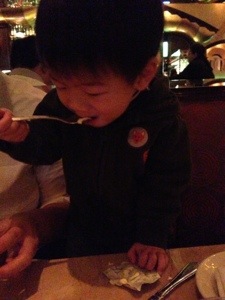 Because it was his birthday, he got a free ice cream sundae. Yeah, so sad. Just ice cream and not a slice of cheesecake. And worse of all, it was mostly whipped cream and maybe two tiny spoonfuls of ice cream at the bottom of the cup. That's kinda lame. EJ, who loves ice cream, wasn't even that interested in his free birthday ice cream. He ate Eric's strawberries (which were for his cheesecake) instead.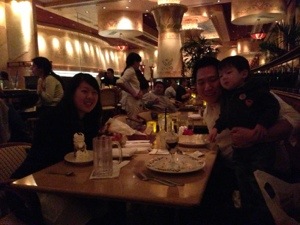 I got the chocolate chip and cookie dough cheesecake. I love chocolate!!!! So sad I couldn't just eat it all!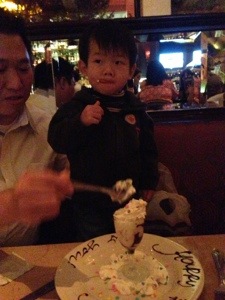 It was a nice family dinner out. It's nice not to cook or clean up 🙂 Happy Birthday to my sweet little darling boy. Mommy loves you sooooo much! I'm really so blessed to be a mother of such a happy, loving, sweet little boy. He's the light of my life. It wouldn't be the same without him.
One Response to "EJ turns TWO on 10/11/12!"