After Eric's 100 mile bike ride in Utah, I think he was hyped up and so signed up for another bike ride, this time a 50 mile one. Haha. Well, it was going to be in San Luis Obispo, only a 3 hour drive away, and a very nice town, so I'm all for it! Another little vacation for me! I love SLO!
We left on the Friday afternoon before the race. I was all prepared to sit in the back seat with EJ, but the silly boy insisted I sit in the front! That's just one of his "particularness". He's used to having me in the front seat, so no choice for me. 3 hours is quite long for a 2yo, especially since he'd already had his nap. He wasn't tired and probably wouldn't like being strapped down for so long! He was fine most of the way. He was snacking and checking out cars and trucks on the road and looking out for airplanes and helicopters in the sky. But soon, we had to whip out the iPad. Seriously, as much as I don't him being on the iPad so much, it is a lifesaver on road trips!

We didn't stop for dinner, but got KFC to go instead. I haven't had the finger lickin' good chicken in a while, and the line for Macdonalds was so long, so we went for KFC. Yeah, eating chicken in the car and in the dark, not a good idea. Lol! But EJ really liked the chicken. He had a whole piece to himself! He didn't quite like the potato wedges, though. He's more of a French fry guy, must be because the French fries at Macdonalds are crunchier.
Anyway, we got to Santa Maria by about 9pm. Hotel in Santa Maria was cheaper, and it's about a 30 minute drive from downtown SLO where Eric's race was gonna be. Whenever we stay at a hotel, I get excited to see what's on tv cos we don't have cable at home. Sad to say, tv really isn't that exciting. Well, at least the big king size bed was nice. And we get free breakfast!
Eric left early and EJ and I slept in. Breakfast was ending at 10am, so I had to wake the sleepy head up, who was still sleeping at 9:30. He was a little excited about being in a new place and was just running around the room while we went to bed. I think he finally came to bed around midnight! We went down to the breakfast buffet and EJ was still in his pjs. That kid gets lots of attention almost everywhere he goes. He was talking to the people in the elevator and in the breakfast area. It's cute, it's like he thinks people totally understand his baby mumbo jumbo.
We got our breakfast and went back up to our room to eat. Saturday morning cartoons were disappointing too.

Anyway, EJ found a comfy seat (the coffee table) and ate his breakfast. We lounged around the room until checkout time. And as we were leaving the room, Eric called to say he was done! Lol. We weren't there to cheer him in! I didn't think he'd get done so fast!
EJ and I made our way down to SLO and met up with Eric at our favorite place to eat, Firestone Grill. They have the best tri-tip sandwiches!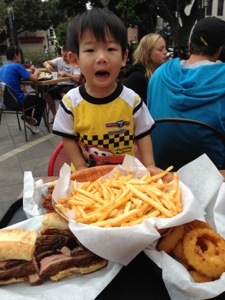 After lunch, we walked around downtown a little. I love the little quaint town feel of downtown SLO. We went and saw where the race was and took some photos.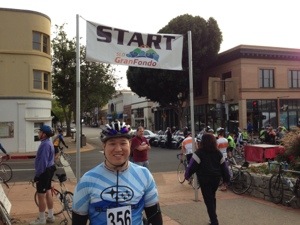 This was Eric before the race.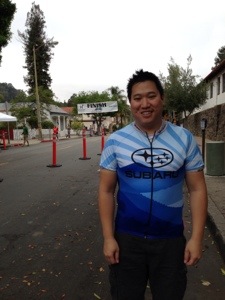 And after the race.
We drove back after that. I drove all the way back! Eric was out. EJ and I spent about half an hour calling out trucks and "honking" at them every time we saw one. Poor kid had the sun in his face, but he eventually fell asleep. Nice short vacation for me. And good job to Eric for completing another race!
No Responses to "SLO 50 mile bike ride"