They tell you that your second delivery goes a lot quicker. No kidding. I'm glad I made it to the hospital!
I was actually scheduled for an induction for Saturday night (11/24). My OB was on-call at the Labor and Delivery unit on Sunday morning, she wanted to be there to deliver Elsa. I had a feeling that if I were to be induced Saturday night, Elsa wouldn't wait until Sunday morning to be born. She'll be born right in the middle of the night. And I guess she didn't want to be born in the middle of the night, so she decided to come earlier on Saturday! The Thanksgiving dinner and all the walking around on Black Friday shopping definitely paid off.
I started feeling contractions around 4am early Saturday morning. They hurt enough to wake me up every time it happened. Eric went to pick up our friends at the airport at around 8am, I didn't tell him I was having contractions because I didn't think they'd last. I decided to time them anyway. By the time he came back at around 10, my contractions were about 10min apart. Quite regular. She was coming! This is new for me. With EJ, my water broke and contractions didn't come on their own. I had to be induced.
Anyway, I spent the morning packing up my hospital bag while Eric went out with EJ to run some errands. We planned to go to Target to get a skirt for our Christmas tree. I figured I still had time and contractions weren't that painful. By the time Eric came back around noon, contractions were 5mins apart. Ok. Better not go to Target. So, I stayed home and finished watching Batman Begins and waited out the contractions. I started the movie the night before and only had an hour left to finish watching. I was watching it on the laptop. The laptop was on the couch and I was kneeling down in front of it. Good position to watch my movie while having contractions. Haha. The whole time I was watching the movie, contractions kept coming every five minutes. I got my 5-1-1 by the end of the movie. I figured I still had some time, contractions were still bearable. So, I jumped in the shower. That was about 1:00 p.m.
I had Eric continue timing my contractions while I was in the shower. They started hurting more and were happening every two minutes! It went from five minutes to two minutes just like that. And now they were starting to really really hurt. I would start screaming in pain and Eric would ask if he should start timing now. Well, yah duh! I wouldn't be screaming if it wasn't a contraction! I spent a good half hour in the shower, the hot water definitely helped soothe the painful contractions. I didn't want to come out of the shower! But I knew I better get myself to the hospital soon. I didn't want to have my baby in the bath tub! After I came out of the shower, I debated whether to blow dry my hair or not. Better not, contractions were really really REALLY painful by then. I surprised myself when I was screaming in pain in Chinese. Lol. Eric called L&D and told them we were coming. That was about 1:30 p.m.
Luckily we live across the street from the hospital. I wouldn't have survived a longer car ride. Eric couldn't go too fast though, I kept yelling at him, "No bumps! No bumps!" While we were waiting at the lights to turn into the hospital, I was aware of the guy in the red truck next to us who was just staring at me in the passenger seat, squirming in pain. Awkward moment, but whatever, I was in pain! When we turned into the parking lot, we didn't see any available spots right away. Eric had to go all the way to the back and I said to him "You don't expect me to walk this far, do you?!?!!!" Well, in actuality, because of the one-ways in the parking lot, he had to go all the way to the end, turn around and go back to the front where there were spots for mothers in labor. We took the last spot. Poor parking lot design! We should be able to turn in and park right away! Anyway, when we got to the hospital, it was almost 1:45 p.m.
I had another contraction as I was getting out of the car, and almost about keeled over in pain. Again, awkward moment of another person getting into their car next to me and staring at this crazy pregnant woman screaming in pain. Then I had a little break between contractions and was able to walk calmly into the lobby of the hospital. Once in the lobby, I had another contraction and screamed out loud in pain. "Can we help you?" asked the hospital volunteers. Yes! Fastest way to Labor and Delivery! I made it across the ridiculously large lobby, a few steps down the hallway, with a volunteer pushing a wheelchair next to me. I couldn't sit! It was too painful to sit, I bet she felt a little silly pushing an empty wheelchair. I was just thinking to myself, I'm not gonna make it all the way down the hallway, up to the third floor, down another hallway to L&D. Not with me stopping every few minutes with a contraction. As I was thinking this, another contraction hit me, and I felt her head. Imagine me, standing there, screaming, "I can feel her head!!" A doctor from the radiology department popped his head out, staring at us, a little shocked, and told us to turn around and go to the ER. And that's what we did. The moment we pushed open the double doors to the ER, another contraction hit, and I screamed "She's coming! She's coming!!!" Yes, I was screaming at the top of my lungs. Of course everyone turned and stared in horror. I felt so embarrassed, so I apologized. I screamed out a "Sorry!!!" Then I looked up and saw people in white coats running at me. They whisked me into the first triage room. It was a frenzy in there. I hopped onto the bed, with no stirrups. The ER doctor told me I was at 10cm and +3, a couple more pushes and she'll be out.
The OB and her resident came down soon and coached me. Told me to slow down. I remember screaming "Come out! Come out!" Well, she came out really fast. Elsa was officially born at 1:58pm. Although, someone asked, "What time was her birth?" And someone replied, "Not sure, no one was looking at the clock." To that, someone else said "Let's just say 1358 hours." Ok. A 15 minute delivery is pretty awesome.

Holding Elsa for the first time. I'm still in my street clothes and my hair is still wet.

Elsa popped out so fast, her face was all bruised. She couldn't open that eye for the first day. Even now she sometimes likes to go Popeye on us.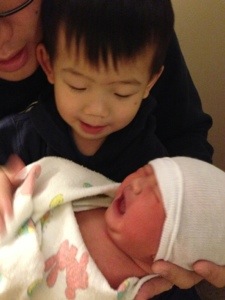 EJ being a loving older brother. She was crying and he wanted to hold her. My heart just melts. Aww…

Eric and Popeye Elsa

Me and my babies. Feeling so blessed.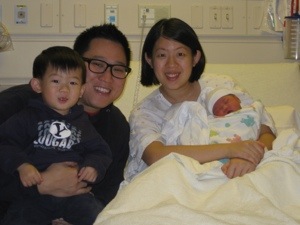 Our little family of 4.
3 Responses to "Welcome Baby Elsa!"