09 Jan 2013 11:26 pm | Category: Baby, Birthday, Celebrations, Cycling, Elsa, Eric, Ethan, Family, Travel, TV, Vacation
1. In January, Eric turned 30! We celebrated with a surprise party and a huge XBOX 360 controller cake.
2. In February, we went to Vegas! As a continuation of Eric's birthday celebration, we went to Vegas and saw Cirque du Soleil's "O" and ate ourselves silly at the buffets at the Wynn and Aria hotels. Thanks to Eric's parents for coming along this trip and helping us babysit!
3. In March, we finally upgraded from our 32 inch TV to a 55 inch 3D LED HDTV.
4. In April, we found out we're expecting baby #2! Also in April, EJ had his first Easter Egg Hunt and discovered the amazing world of CHOCOLATE!
5. In May, EJ graduated from his infant car seat to a toddler car seat. Our baby is growing up so fast!
6. In June, my sister, Sarah, returned from her mission (Salt Lake City, Temple Square Mission) ! Also in June, Eric completed his first Century bike ride in Logan, Utah.
7. In July, we had our very first garage sale.
8. From July to August, we spent one whole month in Singapore visiting my family. Also in August, EJ eats sand for the first time.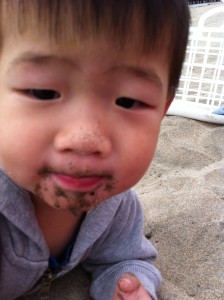 9. October was quite eventful. Eric completes another bike race. This time a 50 mile in San Luis Obispo, California. Eric is also officially promoted to the position of manager, that's 5 years of hard work for EY! We celebrate EJ's 2nd birthday. And EJ (and me) goes door-to-door Trick-or-Treating for the first time!
11. In November, Eric passed one of the hardest exams he had ever taken, the CISSP. Almost 6 hours of testing. Good job, Eric! And of course, in November we welcomed baby Elsa into our lives.
12. In December, my mom was here to help me with the new baby. Because I was home for the whole month (confinement) I was able to bake and bake and bake. This year we had butterscotch cookies, potato chip cookies, snickerdoodles, oatmeal raisin cookies, cranberry white chocolate chip cookies, biscotti, scottish shortbread, cranberry walnut bread, banana nut bread, strawberry squares, and festive popcorn balls. We celebrated Christmas as a family of four!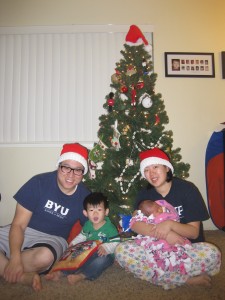 2 Responses to "2012 in a Nutshell"