Oh gosh. That is so old 🙁 I can't believe I've entered a different decade. I guess it's all part of growing up!
We kicked off the celebrations by heading to Cattlemens for their big, juicy steaks. I was a little disappointed. They weren't the melt-in-your-mouth steaks I remembered. Nonetheless, I still finished it. Yes, all of it. 😉
I've never had waiters sing me a birthday song. I find it terribly embarrassing. The whole restaurant's staring at you. But I guess there's a first time for everything. At least I got a free cowboy hat. But I think Elsa looks better in it than I do.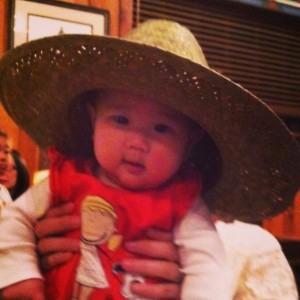 Then on the actual day of my birthday, we went for another pig-out session at Tomi Sushi Buffet. All you can eat sushi and seafood in two hours. Highly recommend that place! Plus, it's a free meal for the birthday person (with ID) if you bring three other paying adults. I wasn't disappointed. 🙂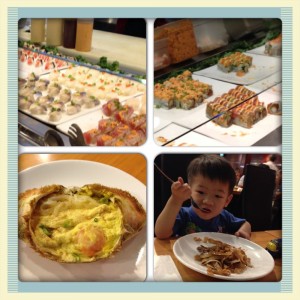 My favorite part of the birthday was my wonderful birthday present! Oh, and of course that I got to spend it with my family 🙂
I actually found it a week before my birthday. We'd just gotten back from Singapore and I was putting away our suitcases. I found a suitcase in our closet that wasn't supposed to be there. It was supposed to be in the closet in the kids' room. So, I yanked it out and realized that it was heavy! What on earth could be inside? It's supposed to be empty. So, of course, I opened it, and lo and behold, found it. Eric had tried to hide it, but nothing escapes me in this house. Haha. I love it! I've just been taking photos of our kids and the photos really do turn out so much nicer than the ones we take on our phone.
I'm so thankful to all that made my birthday extra special! 🙂
2 Responses to "My 30th"