After two weeks of adventure in Hong Kong, Eric and EJ are back! When I picked them up from the airport, EJ hugged me so tight, my heart about melted. How I missed my little munchkin! I have to say, I had a really nice break though! I didn't accomplish the entire list of things I wanted to do, but I was very relaxed!
EJ manage to sleep really well on the flight again. A whole 9 hours of the 11 hours on the second leg back. But boy was Eric tired! He said he only got about two hours of sleep. When they got home, Eric was ready to crash. The first thing EJ did though, was go play with his toys! Even after a nice long bath (i.e. EJ playing with water in his "boat"), he didn't want to sleep. I stayed up with him until about 1am, then had to pry his toys away and force him to sleep. Well, he slept all right, but it was more like a nap! He woke up after only about 5 hours. Yikes.
Anyway, we were planning on going to watch Planes in the theaters this morning. That didn't happen. Eric was really tired! I made him stay awake until noon so at least he could just have an afternoon nap. EJ was happily playing with his toys. I was waiting to see when he'll crash. And at about 1:30 just now, he went and laid down next to Eric. Lol. Which is a good thing, cos 1:30 is his normal nap time.
That's what I hate about traveling to Asia. The jet lag! Elsa took over a month to sleep through the night again after our trip to Singapore, and I'm glad I decided not to take her. It'll take a while before EJ will get back on schedule again! He has about 2 weeks, since he'll be starting school again then!

Playing together again. EJ says he needs to hide the gator (Eric). Haha. Kids come up with the funniest ideas.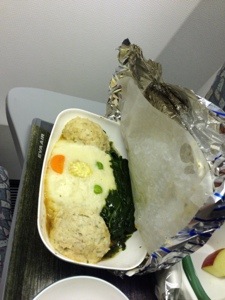 EJ's cute kid's meal on the plane.

All together again!
One Response to "Home Sweet Home"