The kids had THREE Easter egg hunts this week! That's a lot of chocolate!
We had our first one with the ward. There were so many eggs, they filled the whole park! It was a nice quiet, secluded park and we got the whole place to ourselves. Elsa got the hang of it and she quickly managed to get some eggs into her basket. EJ was like a pro. He was running from egg to egg! He filled his basket to the brim! Poor thing, though, he broke his basket when we first got to the park. His basket was hanging off the handles of his bike. He was riding around the park when he crashed his bike and basket. Well, it wasn't too bad, the basket was just broken off around the edges. That's what you get for a $1 basket! EJ was ok. As long as the eggs could hold in the basket, that's all that matters. 🙂
Our second hunt was at home. It was spring break this week for some of the kids in our branch. EJ had spring break too, so we invited some friends over. We painted eggs and had our own little egg hunt in our backyard.
Their third hunt was inside our house. Eric and I actually spent a day in Oakland and San Francisco for our friend's wedding. Their sealing was at noon in Oakland and their reception was at 6 in San Fran. So we got Eric's cousin to babysit the kids and we spent a day in the city! After the temple sealing we drove into the city, caught a movie, and walked around a bit. It was nice not to have to chase two kids down! Anyway, Eric's aunt and uncle came over and they had a little egg hunt for EJ and Elsa inside the house. They filled the eggs with goldfish. Good thing, otherwise the kids are seriously chocolate overloaded this week!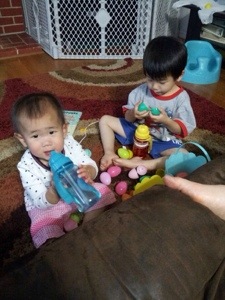 It was a lot of fun and I had a lot of the kids' chocolate, but I never understood what bunnies and egg hunts had to do with what Easter is really all about. EJ told me a story earlier this week about Easter. He told me Jesus ate fish and honeycomb. That Jesus had nails in his hands and feet and he died and then came back after three days. I'm so grateful for his primary teachers that taught him this! For this is the true meaning of Easter.
One Response to "Easter"