Going to bed for the very last time in this house. I'm going to miss this place so much! We've called this place home for the past two and a half years. The longest we've ever been at a place since we got married. While I'm excited for our new home, lots of memories were created here that I'll always remember.
This place is the very first house I've ever lived in with a backyard, garage, the whole shebang. I've only ever lived in apartments before this.
Although not EJ's first home, he spent most of his life here. He turned one (and two, and three) here, took his first steps here, potty trained (with many accidents) here. He experienced many, many firsts in this house. He knows the way home when we're driving in the car. Tonight, we had to make a quick stop at our new place before coming back here for the night. We drove right past our street and EJ quickly exclaimed, "Daddy you missed our house!" I think he will definitely miss this place. This is the home he knows. I hope he can adjust to his new house! I know kids are really adaptable. EJ is a creature of habit, though, so it might take him a while. He does have a new race car bed with Lightening McQueen bedsheets at the new house. So that might help!
This is little Elsa's first home! She turned one here and took her first steps here (technically at our neighbor's house, but close enough!) She probably will have no recollection of this house, but we will! I'll definitely remember how she likes walking on the carpet and not on the linoleum in the house; how she learned how to go down the steps all on her own; and how she loves pulling out all our shoes from the shoe rack and putting on our shoes (no shoe rack at the new place!). Hopefully she'll be able to adjust to the hardwood and tile floor in our new house!
I remember when we first moved in. I was SO not used to it! I thought it was too quiet and too dark! We moved here in the summer so I encountered many spiders in the house. One right above my head while I was lying on the bed. Yikes! I missed having aircon, fancy granite countertops, two bathrooms, upgraded kitchen appliances, among other things that our previous apartment had. And now that we're leaving, I'm going to miss so many things about this place.
Many good memories were made here. And I'm sad to leave. I'll miss our wonderful neighbors. Thankfully we're only moving a mile away and we can still visit frequently. This place has been good to us.
I'm nervous and excited about finally being a homeowner! No more calling up the landlord to fix things. Eric needs to learn to be a handyman! I should learn, too. Hehe.
Moving forward! Goodnight 381 Harvard Ave! This is our last night here. We'll miss you! Thank you for all the wonderful memories!
4 Comments
It's really depressing looking for housing in the bay area. Housing is just so expensive!! We're looking to buy a house in the $600,000s. There was one house we saw going for $650K and it was a fixer-upper!! And would only take cash offers. We're in this price range where we're losing out to investors who can make cash offers. I thought we would be able to find a house by now, but looks like it'll stretch until next summer. We're outgrowing our home now. EJ really doesn't have anywhere to sleep, so he sleeps on our bed. For a while, he was sleeping on the floor in our room, but he decided that he just wanted to sleep in the bed. I would, too! Every weekend is spent at open houses. And weekday nights spent looking at homes with our agent. It is a seller's market now, and we haven't had much luck with our offers. Anyhow, we'll just keep looking. And hopefully find something soon!
2 Comments
EJ's been attending a new school for the past two weeks. He goes twice a week for half a day. I was really looking forward to him attending this school since it's a bilingual school, meaning he'll be exposed to Chinese. We don't speak much Chinese at home, so I really hoped that he can pick up the language. Sad to say, EJ's been hating it. Whenever I talk to him about going to school, he tells me that he doesn't want to go to school. The past couple of times he told me he wants to go to the other school. Tonight he told me he wanted Miss Kat. That's his teacher from EJ's previous school. He was so sad when he said that. It really broke my heart! I wonder if this is a right fit for him. He really seems to hate it. He was so good on the first day. No tears. He said bye and we left and that was it. Ever since then, it's been tears every morning. I hope it's just a phase. I really hope he gets over it. I don't know if I should pull him out if he's still hating it by the end of the month. Or just stick it out, let him adjust and hope the Chinese language rubs off on him.
1 Comment
Usually he runs away when I take out the camera and try to take a picture of him. This time, he wanted me to take a picture of him. He said, "Mommy! Take picture EJ!" He even smiles and poses. He can be such a sweet boy (when he's not freaking out!)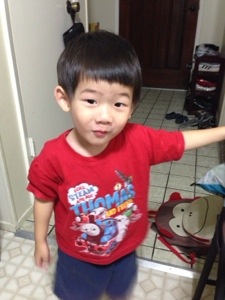 Leave a Comment
I read someone's blog a while back and she documented the reasons why her kid cries. I thought it was so hilarious. EJ is a super OCD kid. He's very particular about how things are done. And if they're not done right/he's way, he freaks out and is super upset! I thought I would try documenting some of his "OCDness".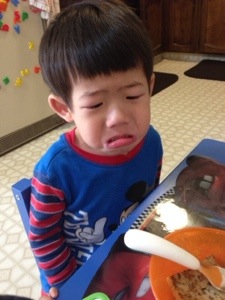 Yesterday morning at breakfast, EJ got upset because I cut his radish cake (Chinese pan-fried radish cake). He kept crying for me to "fix it". Obviously can't uncut something that's already cut, so I had to give him a whole new piece.
Leave a Comment
After two weeks of adventure in Hong Kong, Eric and EJ are back! When I picked them up from the airport, EJ hugged me so tight, my heart about melted. How I missed my little munchkin! I have to say, I had a really nice break though! I didn't accomplish the entire list of things I wanted to do, but I was very relaxed!
EJ manage to sleep really well on the flight again. A whole 9 hours of the 11 hours on the second leg back. But boy was Eric tired! He said he only got about two hours of sleep. When they got home, Eric was ready to crash. The first thing EJ did though, was go play with his toys! Even after a nice long bath (i.e. EJ playing with water in his "boat"), he didn't want to sleep. I stayed up with him until about 1am, then had to pry his toys away and force him to sleep. Well, he slept all right, but it was more like a nap! He woke up after only about 5 hours. Yikes.
Anyway, we were planning on going to watch Planes in the theaters this morning. That didn't happen. Eric was really tired! I made him stay awake until noon so at least he could just have an afternoon nap. EJ was happily playing with his toys. I was waiting to see when he'll crash. And at about 1:30 just now, he went and laid down next to Eric. Lol. Which is a good thing, cos 1:30 is his normal nap time.
That's what I hate about traveling to Asia. The jet lag! Elsa took over a month to sleep through the night again after our trip to Singapore, and I'm glad I decided not to take her. It'll take a while before EJ will get back on schedule again! He has about 2 weeks, since he'll be starting school again then!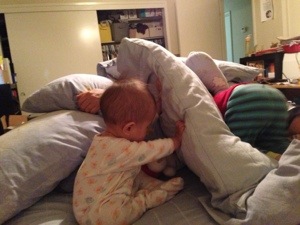 Playing together again. EJ says he needs to hide the gator (Eric). Haha. Kids come up with the funniest ideas.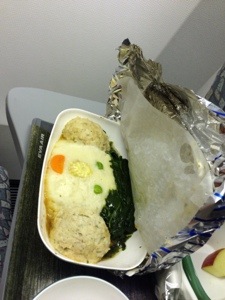 EJ's cute kid's meal on the plane.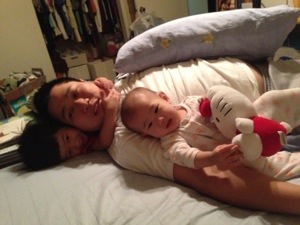 All together again!
1 Comment
Last Saturday, Eric and EJ took an 18 hour flight to Hong Kong, leaving Elsa and me all by ourselves! It was a last minute spur of the moment decision. Crazy (for Eric)! Elsa is now sleeping beautifully through the night, 12 hours and more. I'm not gonna ruin a good thing by traveling to Asia for the second time this year! So I opted to stay home and spend some quality bonding time with my little girl.

I thought I would break down and cry when my little boy, who hasn't left my side for more 24 hours in his whole life, would leave me for almost two weeks! I was all teary-eyed at the airport. But I wasn't bawling my eyes out. I guess deep down I am independent of him! Haha.
Saying our farewells at the airport.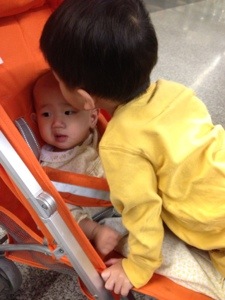 Eric said EJ did a good job telling daddy he needed to potty while they were on the plane. One of the things we were worried about was regression from potty training. We did have a couple of accidents since then. But can you blame the boy? He's so tired from being jet-lagged that he can't control it!! Not looking forward to that when they come back.
EJ, quite the seasoned traveler. Flying since he was two months old!
Whenever we get the chance, we Skype. Elsa gets really excited to see her brother. She starts climbing onto the table towards the laptop and just squealing in delight when she sees EJ. She loves her big brother!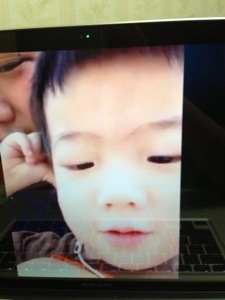 Eric's family in Hong Kong are enjoying their visit as well. EJ gets to see his grandpa (visiting from Australia) and great-grandparents (lives in Hong Kong) and great aunt (visiting from the UK).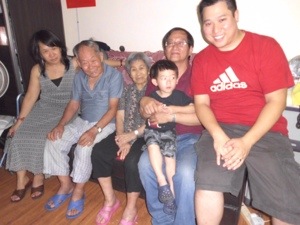 And of course, Eric and EJ are enjoying being a tourist in Hong Kong! Even though Eric speaks pretty fluent Cantonese, locals can still tell that he's a foreigner (in his own motherland, lol) because of the way they dress! And of course, EJ doesn't speak a lick of Cantonese.
Riding the ferry across the Hong Kong bay, overlooking Hong Kong's city skyline.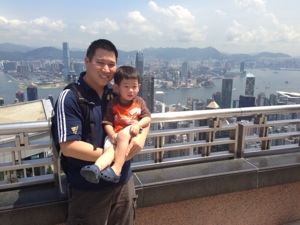 On top of Victoria Peak overlooking the city.
With Eric's favorite childhood/adulthood cartoon character, Doraemon.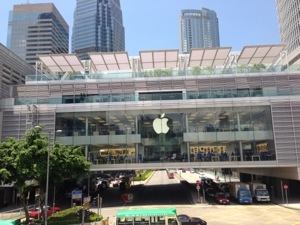 A huge 4-storey Apple store next to the train station.
Macaroni noodle soup at MacDonalds. Yum!
Leave a Comment
The second night, we decided to be brave and go without diapers. Well, I changed the bedsheets at 3am and again when EJ woke up around 9. He didn't even have anything else to drink between 3am and 9am! How did he wet the sheets again?!?! Must be all the fluids we've been giving him during the day. So, nights are still not a success.
Day 3 was great, though! No accidents! Yay! However, I think it has become a power struggle with EJ for him to TELL me he has to go. He just won't tell me. I know he has to go, but he won't say it. So I ended up just saying to him, "Ok! Let's go!" Thankfully, he follows willingly. But If I have to ask, he won't. He'll fight it and refuse to go. Grr!! Anyway, I'm getting him to go. We had no accidents on Day 3 (except at nap time…), so it is a big step from where we started on Day 1!
Nap time. He peed before going down. But still, he managed to wet his bed.

So that was the third time changing the sheets within a 12 hour period. Sigh. Maybe we're just not ready to go without diapers when sleeping? The author of the book was very confident in saying that if your child is 22 months, they're ready. We're trying again today.
At the end of Day 3, we went out. We have been cooped in the house and I wanted OUT! We had to get some things at Target anyway. I was very VERY nervous. This is EJ's first time out without diapers! I made sure to pack extra pants and underwear. It was a success! No accidents! And again, this morning, we went to the park. No accident! He has an amazing ability to hold it in! He refuses to go in the public toilets. I wouldn't either, it's so gross, so I'm really glad he has good bladder control. Haha

As I laid him down for his nap just now, I asked if he wanted his diapers. He confidently said "NO!" We're definitely a big boy now! We just have to deal with night times (and naps) now….. He's never ever ever had a dry diaper in the mornings, so this might take a while :/
1 Comment
I didn't think I would survive today, but I did! Barely. It really isn't fun being stuck at home. Worse. Being stuck at home for two straight days and having to say "Remember to tell mommy if you have to go pee pee" or "Is your underpants still dry?" every few minutes. I think EJ's sick of hearing it and I'm definitely sick of saying it!
On the up side though, we've progressed! We only had two accidents today. The first one was at the start of the day when I was brushing my teeth and EJ was out in the living room by himself. He came running to the bathroom telling me had to go pee pee, but he'd already gone on the carpet. Well, he'd left a trail on the carpet, as he was running to the bathroom. -_- The other time was when Eric had fallen asleep on the couch and EJ couldn't wake him up in time to take him to the bathroom (I was nursing Elsa in the room). So really, EJ had a legitimate excuse for having both accidents. Haha. We have gone from EJ not even telling us he had gone and just sitting in his own mess, to telling us he needs to go AFTER he had already gone, and now to a little tinkle in his underpants and telling us he has to go. So, I would say, it's progress!!
I have to say though, he's still very stubborn! We can avoid the whole "little bit of tinkle in his underpants" if he would just go right away. He would hold it until he can't hold anymore, then tell us he has to go. You can totally tell that he needs to go, but he fights it. Eric tried making him go once, and he was just legs flaring and kicking and won't go. He'll go when he wants to. Ahh!!! So stubborn! The book did talk about how it is harder for older kids to be potty trained because they can get set in their ways. I thought it would be easier! Many moms have told me not to even bother potty training boys until they're at least 3 years old. Oh well, we'll see what happens after tomorrow.
About the night time dryness. I cheated last night. After he went to sleep, I kept checking on him every half hour or so. The book said to wake them up an hour after they've gone to bed and bring them to the bathroom. EJ was completely out! Snoring in deep sleep. I couldn't wake him up! He would be so mad. So I cheated and snuck a diaper over his underpants. Eric got mad too. "We're not following her instructions!" But I really don't want to change sheets in the middle of the night!! About 3 or 4am, EJ woke up and wanted milk! We didn't give it to him. I believe he was still dry then. Even without the milk though, he still woke up wet. He's not ready for night time dryness! ….. Tonight, he's gone to bed with just his underpants. No diapers (yet). We'll see how far into the night I can last before I give in and put a diaper on him.
Right now, I'd rather be changing diapers. -__- We just have to persevere! It's too late to turn back now!
1 Comment
Wow, I can't believe it's been almost a month since I've blogged! Yeah, not so motivated these days. I've been visiting all these preschools trying to decide where to send EJ. He's not quite 3 yet, but he went to school when we were in Singapore and thoroughly enjoyed it. Tuition was only $155/mo there (2 hrs/day 5x/wk), which is a steal compared to here! We're looking at at least $400/mo and only twice a week. Boo! Don't know why it's so expensive! We're also trying to find a bilingual/immersion Chinese school for EJ. We haven't been very vigilant about speaking Chinese at home, so hopefully he'll learn some at school! Anyway, it's been a headache. I've been spending most of my spare time researching schools and visiting campuses. Most bilingual schools don't offer part time programs. And also most preschools require the kid to be potty trained. Which brings us to the potty training blog….
I've heard great things about the 3 day potty training ebook written by a mom in Utah with 5 kids. Her results are 100% guarantee or your money back! You just have to follow her instructions and stay home for 3 whole days! It's potty training for both day and night. Woah. Day and night?! I'm thinking it's too good to be true. EJ wakes up with a FULL diaper every morning. And he loves playing so much that he won't tell you that he has to go! Anyway, we've just come to the end of Day 1. Here's hoping EJ doesn't completely ruin his mattress tonight with his pee.
We started the day by throwing away his diapers. He cried! He was devastated that we were throwing away his Mickey diapers, even though we have Lightning McQueen underwear. We eventually convinced him that he was a big boy and we were done with diapers. He participated in throwing the diapers away, but still fought the underwear. Thank goodness we have other patterns to choose from, we went through a few before he gave in and picked one out to put on. We basically drowned him with fluids. Juice, popsicles, water, smoothies…. I could tell that he was holding it in. I had a feeling that he was holding it in. We kept telling him to make sure his underwear is dry and to let us know if he needs to go. For the first half of the day, he would say no when we ask him to tell us. Eventually he was ok with it. Anyway, long story short, he had accidents on the couch, the carpet, and the bed. We made it to the toilet only once. He even had a poopy one. Let me just say that cleaning poop out of underwear is DISGUSTING!!!!!!!! I kept asking him, let me know if you have to go! And he kept saying no…. But the one time I caught him in the act, we ran to the bathroom and he finished up in the toilet was a moment of victory and pride for him. I hope it will click with him by tomorrow or at least have things better by tomorrow! It's tiring (Elsa also broke out in roseola today, luckily nothing too bad yet). We have to keep by his side and be focused on him the whole time. I let my guard down once, and that's when he had the huge accident on the carpet. (We got some pet spot cleaner for that, recommended by other moms.)
Our carpets are lined with blankets and pads, but he'd missed it every time. Kicked the padding off the pad during his nap and woke up completely soaked in his own pee. Eric went in to check on him and he said, "Daddy I need to go pee." Yah, sure you do! Anyway, it's only day 1. The writer of the book said her 1st son didn't get it until the end of the third day and had like 20-50 accidents a day (he sure pees a lot!) Right now I'm supposed to go lie next to him, and throughout the night, if he starts stirring, asks him if he needs to go pee. Wow. EJ sleeps like a log, so let's see if this is gonna work. We might be changing the sheets a few times tonight. Wish us luck! … actually we're gonna need a miracle! -_-
1 Comment