Oh gosh. That is so old

I can't believe I've entered a different decade. I guess it's all part of growing up!
We kicked off the celebrations by heading to Cattlemens for their big, juicy steaks. I was a little disappointed. They weren't the melt-in-your-mouth steaks I remembered. Nonetheless, I still finished it. Yes, all of it.

I've never had waiters sing me a birthday song. I find it terribly embarrassing. The whole restaurant's staring at you. But I guess there's a first time for everything. At least I got a free cowboy hat. But I think Elsa looks better in it than I do.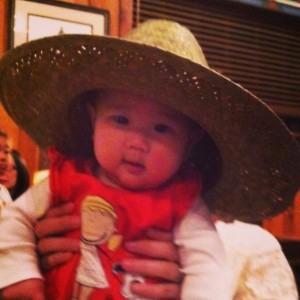 Then on the actual day of my birthday, we went for another pig-out session at Tomi Sushi Buffet. All you can eat sushi and seafood in two hours. Highly recommend that place! Plus, it's a free meal for the birthday person (with ID) if you bring three other paying adults. I wasn't disappointed.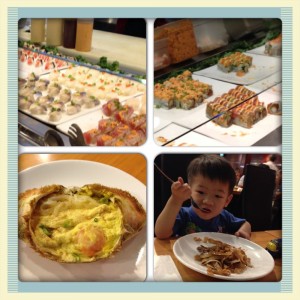 My favorite part of the birthday was my wonderful birthday present! Oh, and of course that I got to spend it with my family

I actually found it a week before my birthday. We'd just gotten back from Singapore and I was putting away our suitcases. I found a suitcase in our closet that wasn't supposed to be there. It was supposed to be in the closet in the kids' room. So, I yanked it out and realized that it was heavy! What on earth could be inside? It's supposed to be empty. So, of course, I opened it, and lo and behold, found it. Eric had tried to hide it, but nothing escapes me in this house. Haha. I love it! I've just been taking photos of our kids and the photos really do turn out so much nicer than the ones we take on our phone.
I'm so thankful to all that made my birthday extra special!

1 Comment
The pollen count had been really high and EJ was hit with bad allergies. We went to see his doctor about his red, swollen, watery eyes. We didn't know what you can do with a 2yo with allergies. Thank goodness there are eye drops for that. While we were there, they took his height and weight. He'd actually lost weight and had only grown about an inch since his last appointment in October. We were worried that he wasn't growing, so the doctor suggested we test for metabolic illnesses (like thyroid, diabetes, etc.). That meant taking blood. I really hate to do that, but I wanted to be sure that he was ok. So we went ahead with the testing.
He sat in my lap, and I held him really tightly so he won't jerk. The technician put the needle into his right arm, and to my horror, blood didn't come out. And to my even greater horror, the technician moved the needle around (while it was still in his arm), trying to find the blood. MOVED THE NEEDLE AROUND! "Where's the blood? I can feel the vein. The vein's right there, right? Come take a look. (to another technician)" HORROR. But, I'm blessed with a really brave little boy, because EJ didn't cry and didn't try to pull his arm away. If he was crying, I know I would be, too. Then I suggested, "Please try the other arm!" which they did. And this time, blood flowed out, and again, no tears from my little superhero.
Tests results have come back, and nothing out of the ordinary. Thank goodness. Doc says EJ is just a tiny little guy. He's happy. He's healthy. We don't need to really worry about anything. Thinking back about that day, watching the needle being prodded around inside his arm, just breaks my heart. We did say a prayer together before the procedure, and I like to think our little boy was blessed by his Heavenly Father that day.
1 Comment
My third Mother's Day so far. For myself at least. This one was the best yet. Last year Eric wasn't even around. He was on a business trip. This year, not only did he make breakfast, he also made lunch! And I also got flowers. Lunch was a potluck at church. All food made by the men. This has been a tradition for the past few years, and I love it! As requested by me, he got Krispy Kreme doughnuts and made laksa fried rice. Yummy! I was so impressed with his fried rice

The only downside to that special day was that I broke out in hives! I had no idea where it came from. It happens to EJ sometimes, too. Nasty stuff.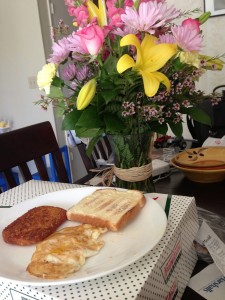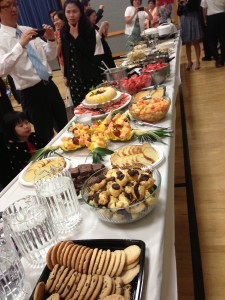 This year, the EQ also came into RS and serenaded us with the Primary song "Love is Spoken Here". And guess who was the pianist? Of course, none other then my dashing hubby, Eric. They did such a lovely job. They sang so beautifully.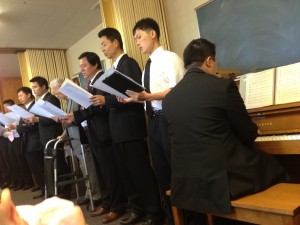 EJ made me a little handprint-flower bouquet. We started sending him to school. Just for 3 hours, twice a week. He's been loving it so far.
I love my little angels.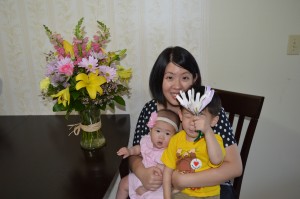 1 Comment
Eric went to Cleveland for a business trip. EJ and I got sick. I got a flat tire. EJ got a toenail infection. And our friends had their baby! Yep. Crazy week!
Since we got sick and Eric was out of town, I was planning to just hibernate at home. I had enough food for week, I didn't need to go out. We did that on Monday. Then on Tuesday, I realized that I hadn't mailed in my rent check yet! Grrrr! So I had to pack the two kiddos in the car, drive all the way to the post office to mail one stinking check. You have no idea how hard it is to get EJ out of the house. "No! I want play cars. No, I don't want wear socks. No, I want bring iPad." Blah blah blah. Then when we're all finally in the car and I'm pulling out of the driveway, "I want go home." This kid!
After mailing the rent check off, EJ decided he didn't want to go home. He wanted to go to the park. Fine…. Only thing was, I hadn't planned on leaving the car (since the post office has drive-through mail boxes), so I was only in a T-shirt and sweat pants. I looked completely bummy. Anyhow, EJ wanted to play at the playground. So we went. It was a nice, warm day anyway. I have to admit that it was nice to be outside after being cooped up for one day. On the drive home, the tire pressure warning light on my car came on. Whaaaaat!! Man, I hit the sidewalk on Sunday and it's coming back to haunt me. Sure enough, as I pulled into the garage, I heard a loud hissing sound. I looked at the tire and air was coming out from a huge tear. I quickly backed the car out again so we could get the spare tire on. We're so blessed the tire didn't blow out on us on our drive back from the park. SO blessed. I called AAA, they came within 20 minutes and helped me put my spare on.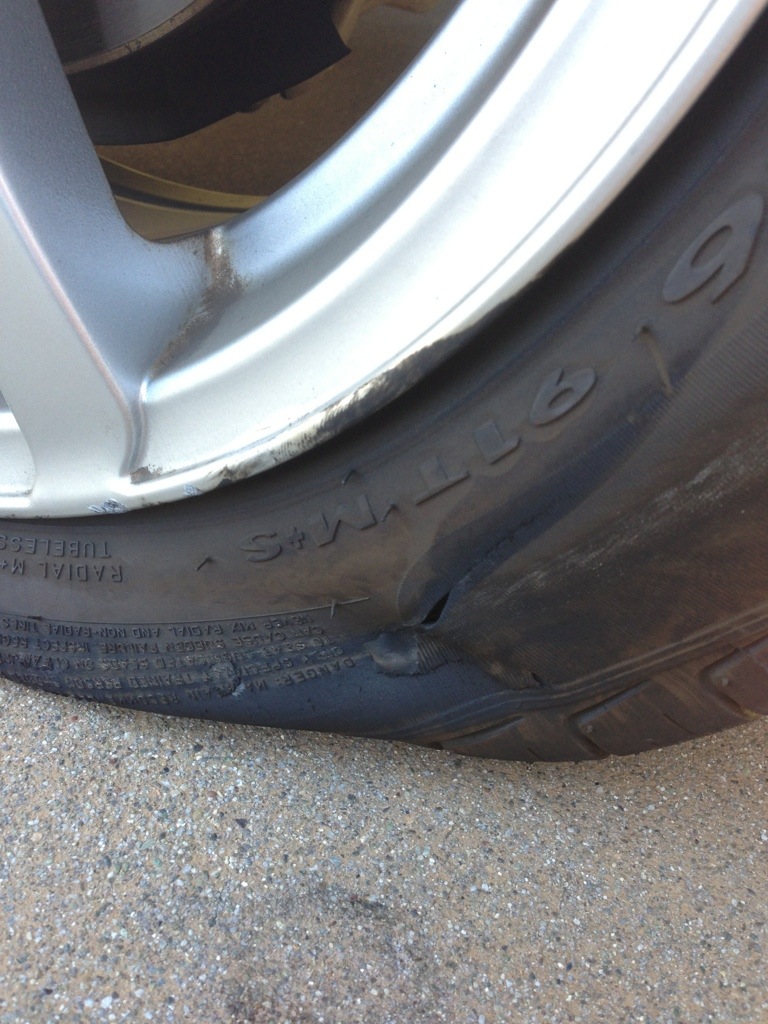 We had to miss story time on Wednesday morning to go to the tire shop to get a new tire. Sad. I wasn't looking forward to sitting around and waiting at the tire shop. I made sure to pack enough toys to keep EJ entertained while we waited. I also made sure to make an appointment before going. But then when I showed up, there was only one other guy there! EJ didn't need toys to entertain him, he was just fascinated that they were fixing mommy's car. He kept staring at the window and saying "Fixing car? Fixing mommy's car? Black car?" So cute. And best of all, since we had a warranty on the tires, I only had to pay $18.25 to renew the warranty. Yay! It was turning out to be a better day than I thought, so I brought us all to the mall!
I thought EJ would enjoy playing at the play area at the mall, but he only wanted to hang out at the Disney store. Then we had CPK for lunch cos EJ wanted pizza.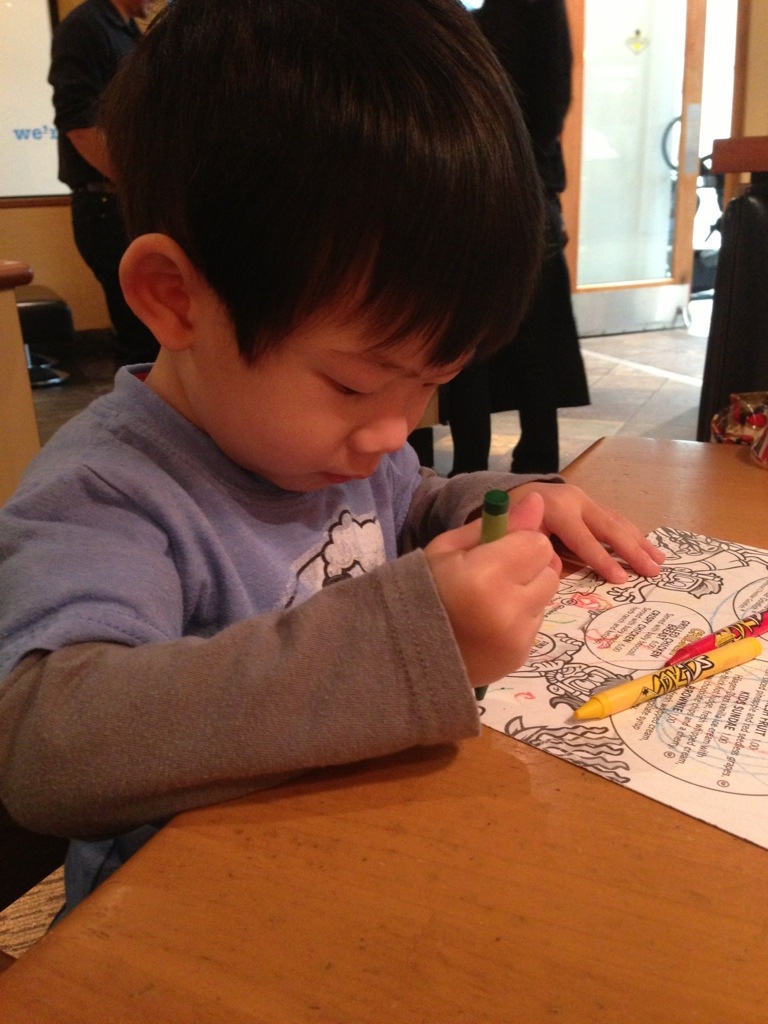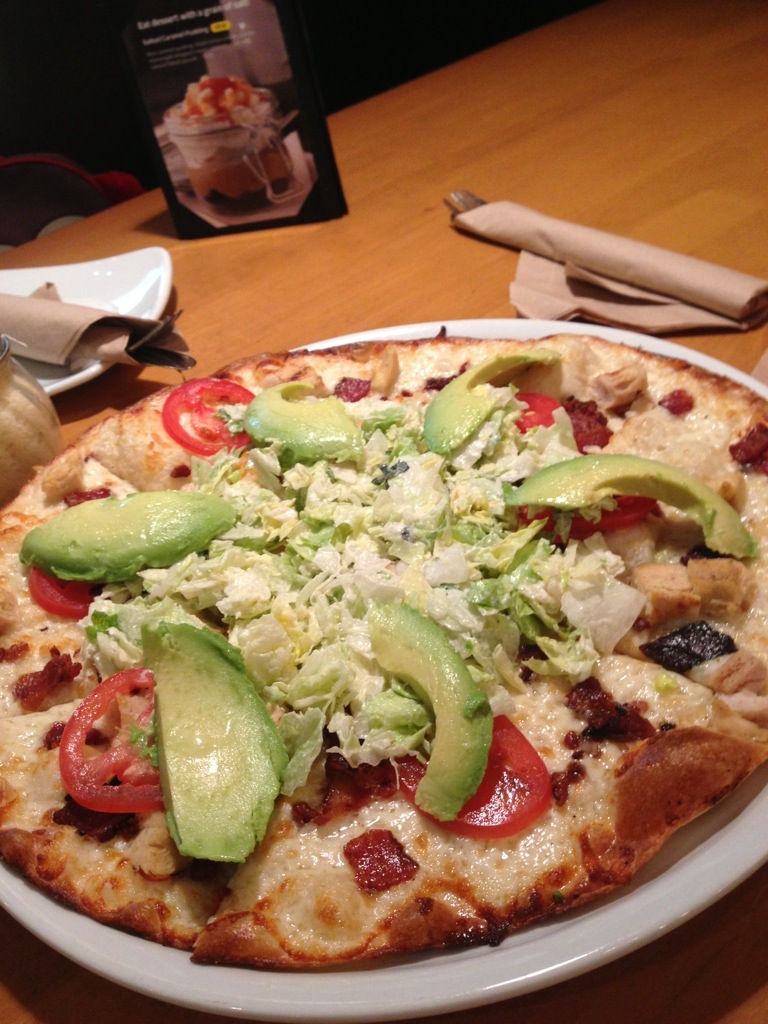 I got the California Cobb pizza for us to share. It was interesting. Not bad, don't think I'll ever get it again. Lettuce on pizza is kinda weird. Haha. So that was Wednesday.
Thursday I had my friend over for lunch. Her baby was due THAT DAY, but no sign of labor, so we had a little lunch date. That night, as we were reading together, I noticed the corner of EJ's big toe was all swollen and infected!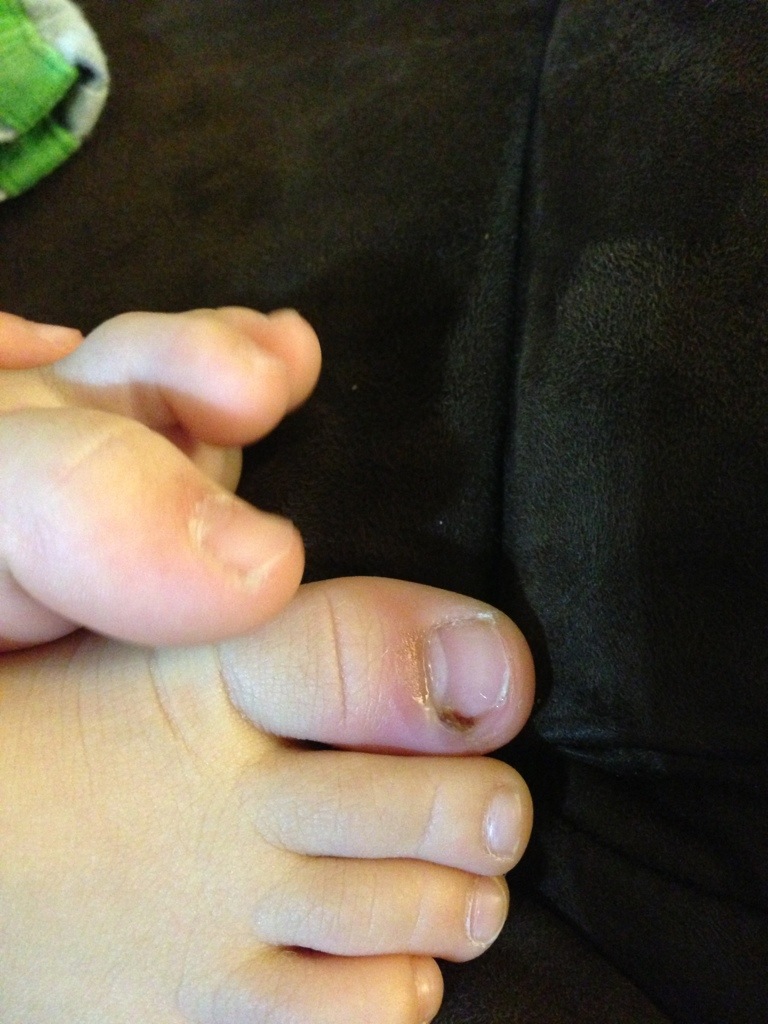 He had peeled off the side of his nail and I had to cut off the flapping piece of nail that he peeled out. And the exposed skin got a little infected. I debated whether or not to bring him to the emergency room (yes, very dramatic!), but decided against it since it really wasn't that bad. I called the nurse and they told me to put some antibiotic on it and we made an appointment to see the doctor the next day.
EJ knows the hospital and remembers he gets shots when he goes there. So on Friday morning when I turned into the hospital parking lot, he said, "Not this one, mommy. Not this one. No go this way! NO GO THIS WAY!!!!" He was frantically crying all the way to the front desk, but then he saw some toys and stopped. Miracle of toys. Haha. When we went in to the doc's office, he refused to take off his shoes unless I did too. Doc confirmed it was an infection, and prescribed us some stronger antibiotic. I went to the pediatric pharmacy and waited to pick up our prescription. Waited and waited. And waited…. Finally I decided to check in with them. What was taking so long?!?! They told me my prescription is at the discharge pharmacy by the Emergency at the hospital section. Whaaaaaat. How in the world?!?! We had to walk all the way to the other end of the hospital to pick up our prescription and when I did, I realized I already had a tube of that same topical antibiotic at home from the last EJ had an infection. Oh well. By the time we got home, Eric had already came home from the airport. EJ and I made use of the nice, warm weather outside and played in the backyard.
Then later that night, our friend, whom I had the lunch date with the day before, finally had her baby! Yay!!
Oh what an eventful week!!! To think all I wanted to do was hibernate at home all week because of my cold. My neighbor came over to check on us a couple of times because she heard very loud crying. Thank goodness for our wonderful neighbors! My visiting teacher also came over with yummy udon noodles that fed us for a few meals. Thank goodness for awesome VTs! Well, I'm glad Eric's home and it's finally the weekend. And we're all feeling slightly better. I can't wait to meet my friend's baby!!!
3 Comments
On the morning of Valentine's Day, the doorbell rang. I had ordered some things online, so I figured it was just the delivery man and he could just leave the stuff at the door. I had laundry to wash, dishes to put away, and kids to feed. An hour or so later, I decided to go get my delivery and Lo and behold, instead of a Zulily package (which I was expecting), it was a huge 1800-Flowers box! I specifically told Eric not to get me flowers. I told him I'd rather use the money towards a nice steak meal, but I got the flowers anyway. So sweet….

It even came with chocolates.

The chocolates were ok. Nothing real exciting, but not bad. You should see it now, though, one bite out of every piece, except the ones I liked, I ate them. Hehe. Anyway, I'm determined to let my roses live for more than a week!!
I went to Safeway to get some groceries. I've never seen that many men coming to the grocery store by themselves during the day. They all left the store with flowers, balloons, and stuffed toys. It was crazy! Valentine's Day is such a commercial holiday!
After getting what I wanted to get done in the morning, I took EJ out to the park. It was a beautiful day out! We went to the playground and had a picnic lunch.

Silly kid, instead of playing on the play structure, he spent most of the time collecting rocks. I don't know if it's just EJ or all boys, but he loves rocks!
Then the 5-6yo kids at the school next to the playground came out to play for their recess. That's when EJ had fun. He loves playing with other kids. The little kids were talking to him, asking him how old he was, giving him hugs, trying to carry him, helping him down the slide. So cute. I was holding Elsa and the little girls were all oohing and ahhing all over her! "How old is she? Her hands are so small! Her eyes are so tiny! She's so cute!!" Haha. Those kids are adorable. Makes me miss my teaching days!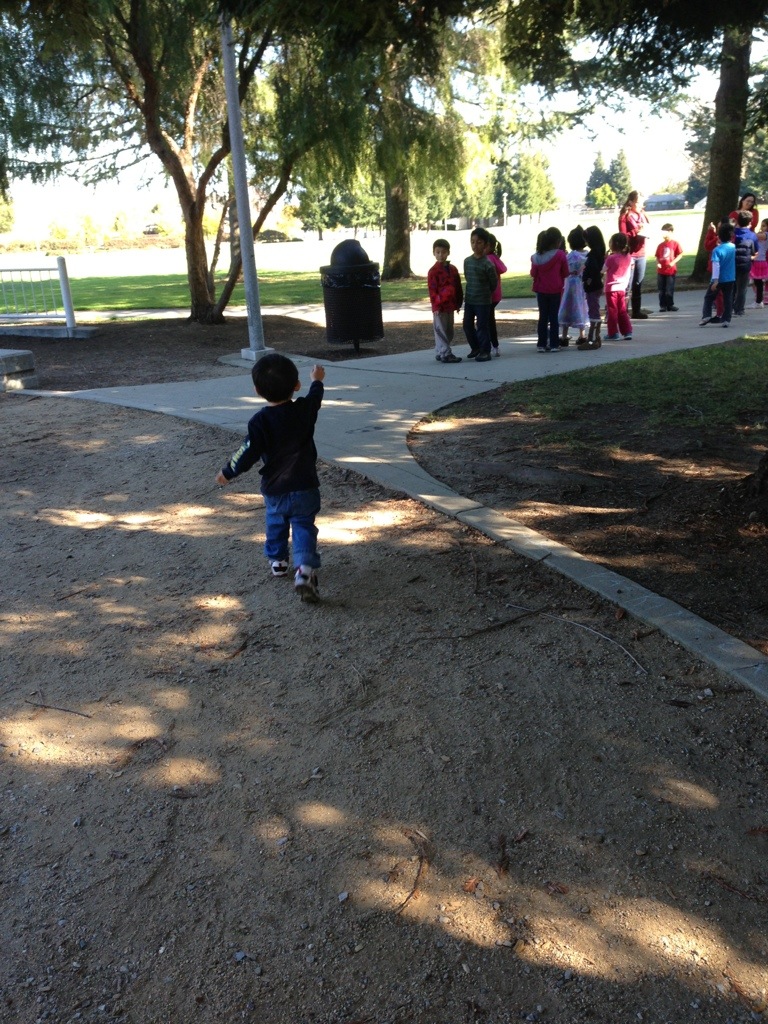 EJ waving goodbye to his friends when they had to line up and go back to class.

Eric didn't get home until 10pm that night. No romantic dinner. EJ and I ate leftovers. But Eric brought home this "fancy" chocolate fondue snack from Intel's cafeteria. The three of us had a little fun dessert before bedtime.

It came in a takeout box, but just to make it look nicer, I arranged everything onto a plate.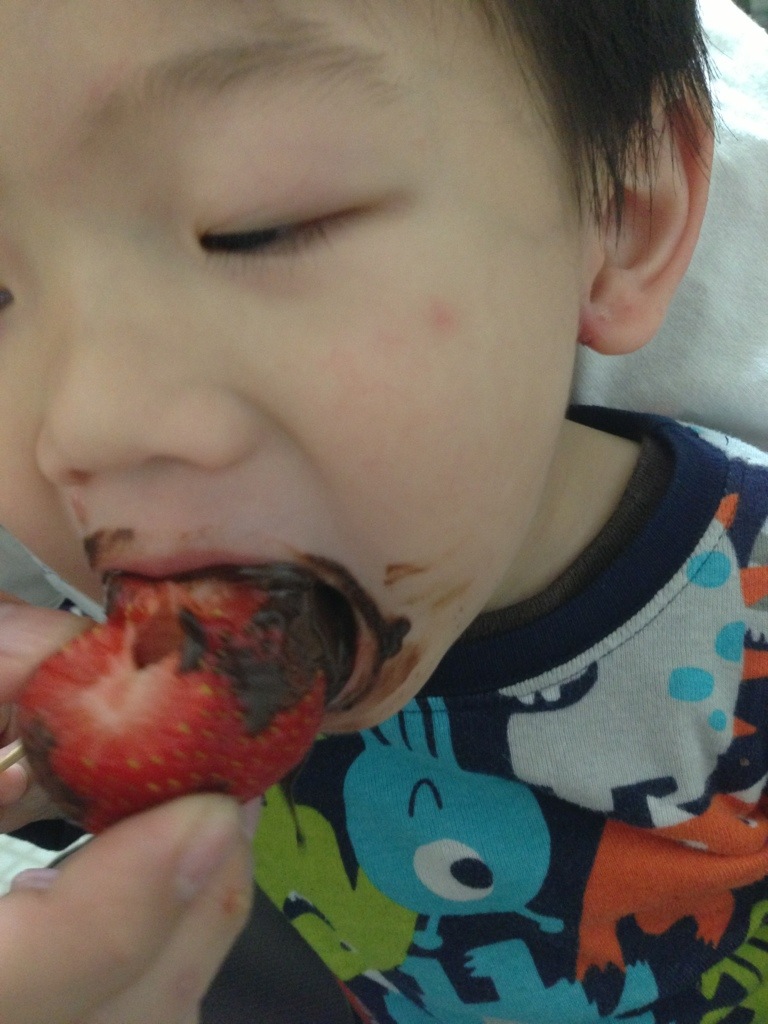 Did you know EJ loves chocolate? Hehe.
1 Comment
He loves his cars.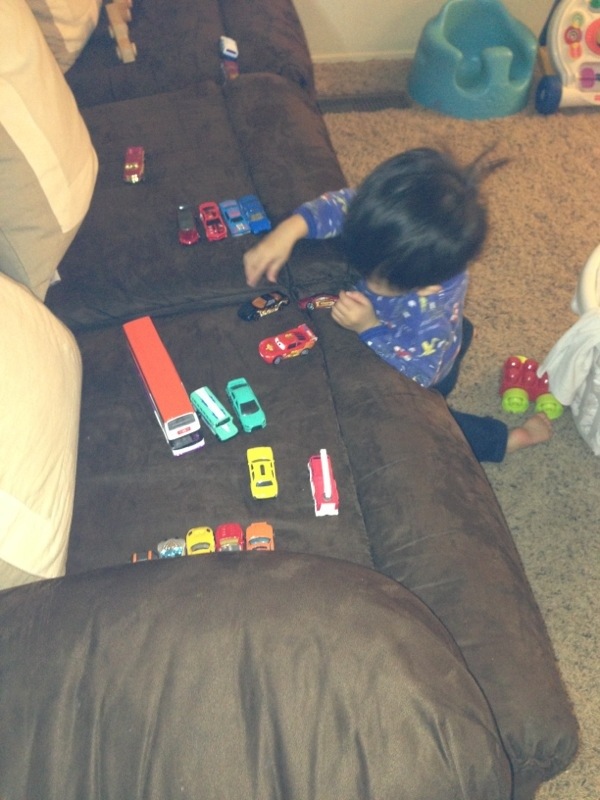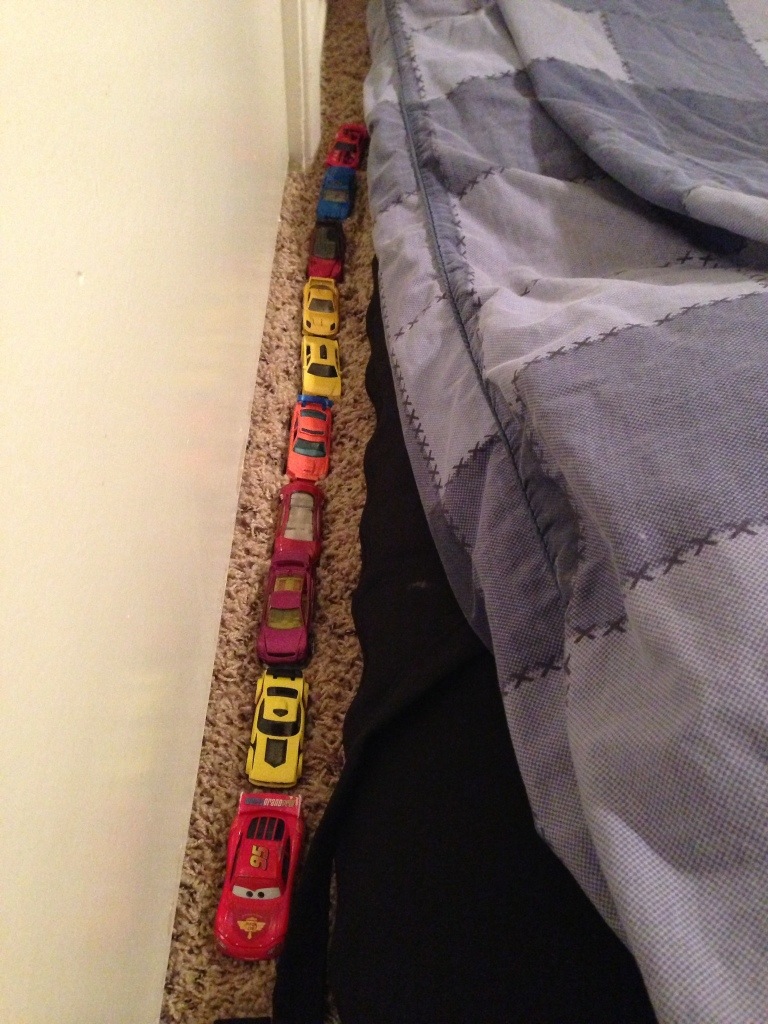 Leave a Comment
Just too cute not to share. Having a baby girl is like having a little doll!
1 Comment
We went and got Elsa a passport when she was 6 weeks old. We were having some visa uncertainties, thought we might have to leave the country, so we had to hurry up and get her a passport as soon as her Social Security card and her birth cert arrived. It's all good. We don't have to leave the country. And thankfully, Elsa cooperated when we got her photo taken. Awake and not crying. Yay!
1 Comment
We gave Elsa her baby blessing at church on the first Sunday of the year in 2013. Oh boy, did she cry. I had a feeling she would. I think Eric got a little anxious with her crying because he blessed her to be an example to those around her twice. Haha. Right as she started crying, he blessed her to have calm and patience. Well, I guess it didn't work during the blessing, but I have to say, she is generally a very calm baby. She just eats and sleeps mostly. Of course she's still only two months old, and that's what two months old do, but even when she's awake, she's really calm. When she was only a few weeks old, she only had to get up once a night to feed. Since babies are mostly nocturnal when they're still that young, she'll be wide awake after feeding and it'll take about an hour and a half to get her back to sleep. But she's just lying there, eyes wide open, just staring. I think she's probably trying to finish pooping. We would sometimes change up to five diapers in an hour because she would poop and cry and want it changed right away. After she's changed, she'll stop crying right away. She likes her diaper cleaned, that one. Definitely a girly girl. Easily satisfied, but it can drive you nuts! Then she started sleeping through the night at 7 weeks. Such a blessing. No more middle of the night feedings and diaper change! Yipee! She also doesn't mind when her brother bothers her. It's really cute when EJ tries to play with her. Quite unnerving too. I have to always remind him to be gentle. One time, I found him in her crib. He used a stool and climbed into her crib so he could turn the mobile for her. So sweet! But I was so worried he would step on her. Elsa is so blessed to have such a loving older brother. My heart just about melts when I see how anxious EJ gets about Elsa!
1 Comment
My mom was here for over a month to help me with confinement. That's one month of no going out and no bathing/washing of hair. Just one month of eating healthy, nourishing traditional Chinese confinement food and sleeping as much as I can. Let's just say I definitely went out and I definitely bathed and washed my hair! Well, I dressed warm and always blew my hair dry after shower (thus the short hair)! So, I wasn't so "obedient" in keeping with those rules. But I definitely ate lots of nourishing confinement food! My mom made sure I had lots of "warm" food. Everyday, for a month, she made me ginger chicken soup. That's grinding the ginger into mince and hand squeezing the juice out, since I didn't have a juicer. I think next time I should really get a juicer. It takes a long time to make that soup! There was also red date soup. I had those two types of soup every day. There was lots of steamed pork ribs with black pepper sauce, asparagus, mushrooms, black fungus, red bean… Confinement food isn't exactly very exciting, but it's good and at least I didn't have to cook!
While my mom took care of me, and I took care of Elsa. Eric's parents were here to take care of EJ. They took him out everyday. They would go out to the mall or the playground, take him out to lunch, bring him home to Eric's grandma's for nap, feed him dinner, and then bring him back home after that. I hardly saw EJ! It was nice in a way because I got to spend time and bond with baby Elsa. On the other hand, I found that I really really missed him! The first few days were hard for me. Afterall, before Elsa came, EJ and I spent 24/7 together. We were always together, doing everything together. Eating, sleeping, playing, running errands… I always had EJ with me. He was my best bud! For the first few days, EJ was also not too used to having Elsa around. He was really whiney and clingy and would cry easily. He would get upset over the littlest things. I remember one time just crying with him. He was clinging onto me and crying and trying to tell me what he wanted, but he wasn't making sense. I couldn't help it (hormones/tired/frustrated) and I just cried with him. In the end he just wanted me to hold him. There were other rare moments where we spent one-on-one time together, and I found myself just tearing up because I realize how much I'd missed spending time with him. Hormones can make me very emotional!
Of course things got better eventually. EJ's moving on from being a jealous brother to being a very protective brother. He wouldn't let anyone hold her or change her diaper. He would get so upset and yell out "Meimei! Meimei! Mom! Mom!" We would have to tell him that it's ok that someone else is holding meimei (little sister). He's becoming such a sweet and loving brother. He knows how to get Elsa's pacifier if she's crying. He'll pat her and comfort her. Rock her when she's on the bouncer (sometimes a little to hard and we have to remind him to be gentle). And even try and carry her! I'm excited for her to be a little older so they can play together!
Having the second one around is definitely also life changing. It takes longer to go anywhere and do anything. (Even blogging! This blog has taken me two weeks to type!) But it's so fun. I love my two little kiddos!
Leave a Comment